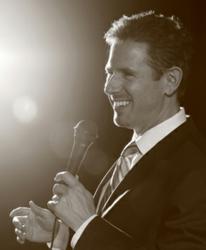 Guarantee a powerful close.
San Francisco, CA (PRWEB) January 12, 2013
The new "Strategic Business Insights" (SBI) video series was launched today with a 19-minute video offering simple techniques to make a speech dramatically more powerful. The host, Patrick Schwerdtfeger, is a regular speaker for Bloomberg TV and a keynote speaker at conferences and business events around the world. More episodes will be released in the weeks ahead.
Patrick Schwerdtfeger has planned to introduce a series of educational videos for the past four years. Strategic Business Insights is the branding of those videos. They strive to help professionals, executives and business owners build broad understanding of the trends reshaping our world. In particular, the videos will focus on the impact of these trends on business and commerce.
Patrick is excited about the project and is already planning his next video release. "My job gives me exposure to many different people, industries and cultures," explains Schwerdtfeger, "and Strategic Business Insights will give me a way to share those experiences with other professionals who can benefit from them."
Interested readers can visit Patrick's website or watch the video on YouTube. They are also encouraged to subscribe such that they'll get notified when future videos are released.
About Patrick Schwerdtfeger
Patrick Schwerdtfeger (@schwerdtfeger on Twitter) is a keynote speaker who has headlined events for Bloomberg TV, Bank of America, Comcast Cable, Research in Motion (BlackBerry), Time Warner Cable and United Healthcare among others, as well as dozens of conferences and conventions around the world. His programs focus on business trends, small business marketing and the social media revolution.
Patrick is the author of Marketing Shortcuts for the Self-Employed (2011, Wiley) as well as Webify Your Business: Internet Marketing Secrets for the Self-Employed (2009) and Make Yourself Useful: Marketing in the 21st Century (2008). He has been featured by the New York Times, LA Times, San Francisco Chronicle, CNN Money, Fortune, Bloomberg Businessweek, the Associated Press, MONEY Magazine and Forbes, among others.