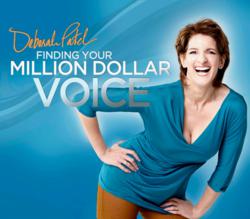 Your success or failure is directly linked to your ability to communicate. No matter what you want to achieve, you must convince people of your value. You do that by being heard. A powerful voice is absolutely critical to your success.
Singapore (PRWEB) May 22, 2013
In the online interview Lisa Sasevich aims for a revealing conversation about public speaking and presentation skills with Deborah Torres on how to develop communication skills and unshakeable confidence to command an audience of any size.
Heart centered experts, leaders, people who want or need to be heard in front of audiences will find the inside scoop behind what it takes to feel completely confident about speaking up in any room and inspire your audience so deeply that they literally jump at the chance to work with you after hearing you speak.
Lisa Sasevich, known as the "Queen of Sales Conversion", and honored as one of America's Top Women Mentoring Leaders by WoW Magazine, teaches high-impact communications skills and sales-closing strategies for entrepreneurs and small business owners to greater profits. Her company, specialized in sales training, ranked No. 169 rank on the prestigious Inc. 500 list of America's Fastest Growing Private Companies of 2012.
"If there's one thing I become sure of after stepping onto stage after stage, it's that communication is a system - it's not happenstance. As long as people follow the steps, they will present like a Super Star – ALL THE TIME!" says Lisa on how to leverage one's unique gifts and qualities and convert them into a financial windfall.
Deborah Patel, the "Million Dollar Voice Mentor" is one of the world's top Voice and Presentation Coaches in public speaking and sales training. Deborah is a mentor to many of the world's best-selling authors, professional speakers, entrepreneurs, and senior leaders of Fortune 500 Companies. Deborah has worked with hundreds of thousands of people in 71 countries helping them get more visibility, get more buy-in and increase sales.
"Your success or failure", Deborah says, "is directly linked to your ability to communicate. No matter what you want to achieve, you must convince people of your value. You do that by being heard. A powerful voice and an authentic leadership presence are absolutely critical to your success."
"The good news is that being a great communicator is a learnable skill. It's not something most people are naturally born with. With the right teacher and the right systems it's totally possible to learn the secrets of being a super star communicator – fast - much faster than people imagine!" Deborah adds.
Deborah's flagship training program "The Million Dollar Voice" is designed to teach presentation and communications systems and skills for leaders to lead with humanity and communicate their world-class expertise with unshakeable confidence.
During the interview on May 28 at 11am Pacific Deborah discusses how to match your voice to communicate your value and make more sales, and how to sound naturally charismatic, even when you're reading a script. For details on how to join the event, visit http://www.MillionDollarVoiceTraining.com/interview
About Deborah Patel:
In her early career as a singer, dancer and actress, Deborah performed for millions on radio, TV, Broadway and on international concert stages with legendary entertainers like Whitney Houston and Michael Jackson.
Today Deborah Patel is a world-renewed Voice and Communication Skills Coach and speaker who has shared large public speaking platforms all around the world with personal development experts like Jack Canfield, Anthony Robbins, Robert Kiyosaki, Blair Singer and T. Harv Eker as well as world leaders like Former British Prime Minister Tony Blair. Deborah has been frequently featured in international media including CNBC, Forbes, Channel News Asia, CNN and Time Magazine with clients including Time Warner, AIA, Dell, Disney, Standard Chartered and many other Fortune 500 companies. Her popular product, "Presentation Power " and book "88 Essential Secrets for Achieving Greater Success at Work" are both best-sellers.