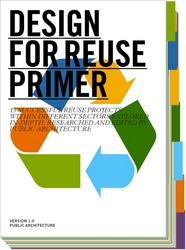 "At the heart of many of the issues around reuse is lack of awareness."
San Francisco, CA (PRWEB) September 22, 2010
Developed by design catalyst Public Architecture, the "Design for Reuse Primer" profiles 15 innovative projects that champion material reuse in construction from Vancouver to Washington DC. The "Design for Reuse Primer" is a free, e-book that provides firsthand accounts of the triumphs and tribulations of working with reuse.
"Part of the issue with using any kind of salvaged material is that ...you can't go in thinking you 'll get a brand new building," says David Lake of architecture firm, Lake|Flato. "In fact, you're not striving for that. You're striving for a building that immediately has an intrinsic character because of the nature of the materials."
Through interviews with contractors, architects, clients, and specialists, the "Design for Reuse Primer" provides a holistic picture of the current state of reuse, its potential across different project types, and most importantly, its human impact.
With projects ranging from a school for children with learning differences in Seaside, CA to a center for neighborhood revitalization in New Orleans, this electronic publication offers insight on how to design for (and with) reuse, whether you are a builder, architect or simply curious. Project types include civic, educational, retail, and more.
"At the heart of many of the issues around reuse is lack of awareness," says Liz Ogbu, Associate Design Director of Public Architecture. "These projects show that reclaimed materials not only divert substantial waste from the landfill but also engender a sense of ecological stewardship that impacts communities. Reuse is a critical part of the sustainability movement, though as of yet undervalued."
The "Design for Reuse Primer" is a free, downloadable resource available through the Public Architecture website. The project was sponsored by a generous Research Fund grant from the US Green Building Council. The publication is part of a larger initiative by Public Architecture to provide knowledge and tools to inspire and facilitate reuse as a common practice. Related resources will include best practices from industry leaders and more substantive stories from the field.
About Public Architecture:
Public Architecture is a national 501(c)(3) nonprofit organization established in 2002 that mobilizes the design profession to enact social and environmental change. In 2005, the organization erected a two-story house, dubbed ScrapHouse, made entirely out of reclaimed materials on Civic Center Plaza in San Francisco. Since then, the organization has been a leading advocate for material reuse. The organization also runs The 1% program, which challenges architects nationwide to commit a minimum of 1% of their billable hours to pro bono work, resulting in $27 million in leveraged services for the nonprofit community each year. Public Architecture's design initiatives have been the subject of extensive press, including a National Geographic Channel documentary. Its work was featured in the Cooper-Hewitt National Design Museum's exhibition Design for the Other 90% and has received two international awards from the Holcim Foundation for Sustainable Construction.
###