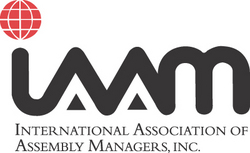 (Vocus) March 2, 2010
The International Association of Assembly Managers (IAAM) is pleased to announce the new name for the Annual Conference & Trade Show, VenueConnect. The inauguration of VenueConnect will be in Houston, Texas, July 23-27, 2010.
The tradition of IAAM will forever be the same but with the growing expansion of venue professionals across the globe; VenueConnect will readily identify members of this professional industry. "Re-branding of the Annual Conference & Trade Show under the title of VenueConnect is very exciting. We believe that the name VenueConnect better describes who we are and what we do. We are developing a consistent look and message that will be recognized throughout the years to come," said Randy Brown, CFE, Executive Vice-President & General Manager at Allen County War Memorial Coliseum and IAAM 2nd Vice-Chairman.
Join us in the dynamic city of Houston to celebrate and welcome the new name of IAAM's 85th Annual Conference & Trade Show, VenueConnect. Network with industry leaders, tour world-class venues and find thousands of solutions and new ideas on the trade show floor. VenueConnect will have a variety of educational sessions focusing on leadership, innovation, technology and sustainability. In addition to one of a kind education and networking enjoy many attractions in the ''best city to live, work and play'' (Kiplinger's Personal Finance), including world class museums and stunning theater performances.
Friday only, July 23, attend the University Venue Management Conference (UVMC). UVMC will include; round table discussions, academic paper presentations, youth marketing panels, and keynote speakers covering a wide range of venue specific topics. You don't want to miss out on this amazing opportunity to learn about public assembly venue management on college campuses.
Through March 22, 2010 take advantage of Early Bird pricing and register here. We look forward to seeing you in Houston at VenueConnect.
The International Association of Assembly Managers is the world's largest professional association dedicated to issues relevant to the management of public assembly venues. Members of the association manage public assembly venues such as amphitheaters, arenas, auditoriums, convention centers/exhibit halls, performing arts venues, stadiums and university complexes; or provide products, services or attractions to support the industry. IAAM has more than 3,600 members worldwide. More information is available at IAAM.org.
###