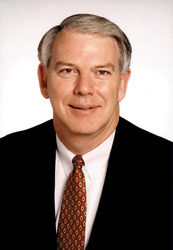 Coppell, TX (Vocus) October 22, 2010
Cliff Wallace, Managing Director of the Hong Kong Convention & Exhibition Centre, along with three others, was selected to be inducted in the Convention Industry Council's (CIC) Hall of Leaders. The individuals were selected from a group of extraordinary nominees representing the most influential leaders and innovators in the venue industry. The induction ceremony will be during the 2011 Hall of Leaders Gala held in Baltimore next June.
Nominations were submitted by CIC member organizations or the general industry community. Qualifying nominees must have substantially contributed to and shaped the industry as well as proven versatility through actions that have impacted and re-defined meetings, conventions, exhibitions and/or travel. A selection committee, appointed by the CIC Board of Directors, reviewed the nominations and recommend inductees. The CIC Board of Directors then approved the slate.
"We are pleased to announce the winners of this prestigious award. There is tremendous talent in our industry, and the 2011 class clearly meets the criteria for this award, and all have shown leadership and contributions spanning many facets of the industry as well as contributing to society as a whole," said Karen Kotowski, CAE, CMP, Chief Executive Officer for the Convention Industry Council (CIC).
Wallace served as IAAM president in 1984-85. He has 38 years' experience in the public venue management industry, planning and managing venues in the U.S., Canada, Europe and Asia. Wallace introduced a radically different financial operating model for government and venue owner/authorities that has become an established industry management option and practice.
Wallace has served as Chairman of UFI, Asia Pacific Exhibition and Convention Council, World Council for Venue Management and Hong Kong Polytechnic School of Hotel and Tourism Management in addition to his years of service to IAAM. Wallace was nominated by IAAM for this special award and we congratulate him on all his accomplishments.
The International Association of Assembly Managers is the world's largest professional association dedicated to issues relevant to the management of public assembly venues. Members of the association manage public assembly venues such as amphitheaters, arenas, auditoriums, convention centers/exhibit halls, performing arts venues, stadiums and university complexes; or provide products, services or attractions to support the industry. IAAM has more than 3,500 members worldwide. More information is available at http://www.iaam.org .
###