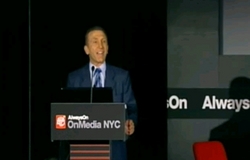 We were very happy when we got nominated, but quite surprised when we won, because after all, Clupedia is still very much in its infancy since it was launched only three months ago, compared to other nominees who are more mature companies
Santa Ana, CA (PRWEB) February 11, 2008
Clupedia, a social media site that allows users to share their reviews and offer their public opinion about anything on the Web, has been recognized by AlwaysOn as one of its top 100 Winners. Clupedia is among hundreds of companies nominated for this prestigious award. CEO and founder Dr. David Saad demonstrated the site's new release at the AlwaysOn Media conference in New York.
"We were very happy when we got nominated, but quite surprised when we won, because after all, Clupedia is still very much in its infancy since it was launched only three months ago, compared to other nominees who are more mature companies," Saad said. "Of course, this speaks volume of Clupedia's potential to become a leader in its marketplace."
Clupedia's unique and powerful propagation technology exponentially increases the visibility and distribution of advertisements, making it an ideal platform for advertisers and advertising networks. Ads are no longer restrained to a particular Web site, but become visible on any and all relevant sites. For example, if a user clues the word "caffeine" at a particular site, that clue, along with its context-driven ad, can be viewed on all 28 million Web sites where the word "caffeine" appears. In short, Clupedia puts the advertising process on steroids.
The AlwaysOn Media award is given to companies that have excelled in their marketplace and have proven their ability to disrupt current paradigms with their technology. Recognition signifies major developments in the creation of marketing tools, services, venues, advertising, branding and public relation campaigns. In his interview with Vator.tv, Saad mentioned that 12 of last year's winners were acquired and 15 of the current winners are expected to be acquired this year, clearly demonstrating the high quality of companies on the winners list.
Clupedia generated tremendous buzz and received many accolades from reviewers and pundits despite the fact that its beta version was limited in functionality. Mr. Ezra Roisen, moderator of the AlwaysOn Media Conference, mentioned that Clupedia was one of the most exciting companies, that Saad was one of the most charismatic entrepreneurs and that Clupedia's presentation was hands-down the best presentation.
The new release reveals the entire vision of Clupedia, which consists of an open platform that allows users to not just create clues and share their reviews, but also develop their own widgets or functions that can be integrated in the platform, similar to Open Source or Facebook. Such peer-production is likely to accelerate adoption and strengthen loyalty to Clupedia, Saad said. In addition, the platform allows users to engage and share their reviews from three sources: a browser toolbar, Clupedia's Web site and a mobile device. The new release will also introduce meritocracy in Clupedia Social Network, which allows users to police themselves and maintain the integrity of the system by grading clues, commenting on clues, sharing clues and voting for Clupedians. The new release also features a rich user interface that resembles the iPhone.
Selection criteria for the AlwaysOn Media award included innovation, market potential, commercialization, stakeholder value and media buzz. The selection committee consisted of the AlwaysOn Editorial Board, industry experts, venture capitalists, investment bankers and market analysts. Prior winners of the AlwaysOn Media award include Google, Facebook, YouTube, Vonage, Plaxo, LinkedIn, Big Torent, MySQL and more.
For more information about Clupedia and its platform for sharing reviews, public opinion and more, visit http://www.Clupedia.com.
About Clupedia
Clupedia is social media company that offers clues from crowds. A clue is simply a person's opinion about anything and everything that you see on the web -- from products to politics and everything in between. Just highlight a word and then clue it. A clue consists of ratings, reviews, recommendations, suggestions, notes, bookmarks, votes, tags or blogs. When you create a clue from somewhere, anywhere, it propagates everywhere. It is the ultimate platform for diffusion of opinions. Clupedia is building the meta Web -- a Web about the Web. built by the people. for the people -- an ambitious endeavor that makes the World Wide Web more informative, collaborative, connected and convenient.
Contact:
Dr. David Saad
Chairman & CEO
(949) 678-9930
David.Saad @ Clupedia.com
# # #