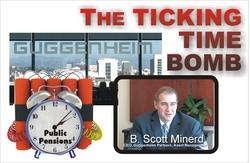 unfunded public employee retirement benefits of $300 to $400 billion were revealed
Los Angeles, CA (PRWEB) May 28, 2009
Following a panel discussion entitled: The Ticking Time Bomb, at a Milken Institute California State of the State Conference, the first public predictions regarding "unfunded public employee retirement benefits of $300 to $400 billion were revealed" The Full Disclosure Network® presents a two-part cable tv series that includes an exclusive interview with panel moderator and public finance expert B. Scott Minerd, CEO Guggernheim Partners Asset Managment who provides insight and analysis on the looming financial disaster in California. DVDs of the complete series are available. A twelve minute video preview from the series is available at this URL: fulldisclosure.net/Programs/482-483.php
Featured in the series are:
B. Scott Minerd, CEO Guggenheim Partners Asset Management
Hon. Keith Richman, Calif. State Assembly
Carl De Maio, CEO Performance Institute
Jack Ehnes, CEO CALSTERS Pension System
Dave Low, CA School Employees Association
Barbara Lloyd, Sr. VP Lehman Brothers
Here are hightlights from each segment: of the series:
Segment #1: When serving as Managing Director of Credit Suisse Scott Minerd described how he exposed the risky derivative securities which directly led to the liquidation of the Orange County investment portfolio and the county's subsequent bankruptcy.
Segment #2: Will Municipal bankruptcies spread across California? Minerd suggests that pension benefit debt is unanticipated by the public and bond rating companies. The $300-$400 billion debt is "present value" but Minerd adds "the actual sum is more likely a trillion dollars."
Segment #3: Assemblyman Keith Richman cites San Diego, Contra Costa and Orange Counties have billions in unfunded public employee pension benefits. Minerd's suggestions to head off crisis: (1) Attempt to fund now (2) Ignore and pay as you go (3) Break promises made to public employees by redefining benefits, employees work longer, caps on benefits.
Segment #4: Carl DeMaio CEO Performance Institute cites retroactive benefits approved by elected officials, and pension benefit debt is $130 billion before unfunded health care benefits that is three times all outstanding debt now in California. Keith Richman cites State Legislative Analyst reports that School Districts are likely to go bankrupt.
Segment #5: Only ten percent of Counties have funded or partially funded public employee benefit plans. Plans include coverage for spouses, survivors even after medicare age, according to Barbara Lloyd, Sr. VP Lehman Bros.
Segment #6: 2006 Infrastructure Bonds of $40 billion to cost $40 billion in interest. Minerd suggests that when voters approved the bonds "all it did was allow the state to spend more on other things and not to address the true fiscal issues."
###