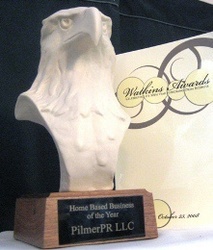 We're pleased to be recognized by multiple organizations as a successful public relations firm
SALT LAKE CITY (PRWEB) December 4, 2008
"We're pleased to be recognized by multiple organizations as a successful public relations firm," said John Pilmer, president of PilmerPR. "Receiving these awards aligns with our commitment to offer best-of-class results for our clients. This increases our positive outlook for continued growth, as our award-winning PR campaigns are bringing new businesses to the forefront, despite current economic storms."
In one month's time, PilmerPR received recognition from the following organizations:
Nov. 19: The Golden Spike Awards recognized PilmerPR as a finalist in the Corporate Media Relations and Public Service/Advocacy categories. The Golden Spike is the premier public relations award in Utah, as awarded by the Public Relations Society of America and the International Association of Business Communicators. Nov. 14: The Society for New Communications Research (SNCR) named PilmerPR a recipient of a 2008 Commendation of Excellence in Blogger Relations. SNCR is a global nonprofit foundation dedicated to the advanced study of the latest developments in new media and communications. Oct. 23: The Provo Orem Chamber of Commerce named PilmerPR the Home-based Business of the Year. PilmerPR received a Sen. Arthur Watkins award honoring top business owners and community leaders. Beginning its sixth year in operation, the staff at PilmerPR stays current on emerging trends like social media, search engine optimization (SEO) and environmental sustainability. PilmerPR has become a trusted advisor in the areas of clean technology, social responsibility and green PR, while sharpening relevant skills.
About PilmerPR, LLC
The PilmerPR team has more than 75 years of collective experience in marketing and public relations with specific backgrounds in high-technology, engineering, retail, print journalism, social media, search engine optimization, travel, music and rapidly rising area of green PR. The team includes active PR professionals Accredited in Public Relations (APR) by the Universal Accreditation Board. APR is a mark of distinction for public relations professionals who demonstrate their commitment to the profession and to its ethical practice.
MULTIMEDIA GALLERY http://www.businesswire.com/cgi-bin/mmg.cgi?eid=5845823