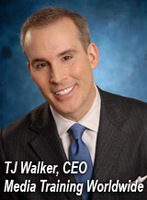 You will command professional respect, convey style and substance, reduce the amount of time preparing for presentations
New York (Vocus) February 26, 2009
Politicians, company presidents and sales people leaders can learn to speak and persuade like Barack Obama to deliver powerful messages that inspire workers and motivate buyers. A new DVD breaks down 32 of our new President's speaking traits into lessons each of us can use to get ahead in business, job interviews and speeches.
"Speaking to get results is a skill that can be taught and learned," said TJ Walker, author of the new DVD, who has trained thousands of CEOs, authors, and experts, including United States government officials, European Prime Ministers, and African diplomats.
Walker is giving people the elements that make Barack Obama a great speaker and tell them how they can take some of those skills into their own lives.
The first five lessons can be previewed for free at this site for free.
Politicians as well as entrepreneurs and business leaders will learn how to:

Captivate your audience BEFORE you open your mouth
Use the 7 essential elements of every successful speech
Hook your audience in your first 7 seconds
Create magical eye contact
Package your key points into personal stories
Reduce nervousness
Create dialogue
Improve body language
Be persuasive
Connect with your audience
Rehearse more effectively
Develop star persona
Develop strong openings
Create powerful closings
"Company presidents, board members and other executives who use the course will be prepared for speaking to large audiences as well as one-to-one presentations and board room pitches," Walker said. "People will become effective presenters at road shows, industry conferences, investor presentations, annual meetings, regulatory hearings, depositions and legislative hearings."
Salespeople who study the course will become better at conducting sales presentations, product announcements and press conferences.
"These skills are so important because clients, employees, customers, and prospects will remember what you say and take action," Walker said. "You will command professional respect, convey style and substance, reduce the amount of time preparing for presentations," he said. "You will also eliminate fears, project leadership and reduce tension."
"You'll be amazed while you're being informed, as T.J. Walker breaks down Obama's style into all the infinite and eminently replicable techniques of voice, gesture, even content. The video is an overwhelmingly good value," said David Murray, Editor of The Influential Executive.
For more information, and to get the first five lessons for free, go to http://www.MediaTrainingForPoliticians.com .
About TJ Walker
TJ Walker is president of Media Training Worldwide, based in New York City. He is one of the leading authorities on media and presentation training in the world. With more than 25 years of experience, Walker has worked personally with thousands of CEOs, authors, and experts, including United States government officials, European Prime Ministers, and African diplomats.
He is author of ''TJ Walker's Secret to Foolproof Presentations,'' (Spring 2009) ''Media Training A-Z,'' ''Presentation Training A-Z'' and more than 100 other books, videos, DVDs, CDs, software programs and other learning tools. Walker also writes a daily column, ''TJ's Insights,'' that is widely read by CEOs, political leaders, and business executives worldwide.
Clients include Microsoft, Bank of America, Charles Schwab, Unilever, Allstate, Miss Universe Organization, EMC, The Hartford, Dun and Bradstreet, and US Trust United.
# # #