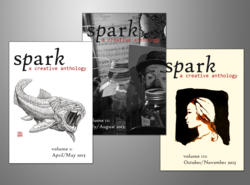 I am committed to the idea that every contributor should be paid for their writing—whether they are experienced professionals or first-time submitters.
(PRWEB) December 04, 2012
Spark: A Creative Anthology, a quarterly publication of fiction, nonfiction, and poetry from emerging and established writers, announces the launch of their Kickstarter campaign to raise funds in preparation for the release of the anthology's inaugural volume.
The anthology aims to influence the lives of up-and-coming writers by helping them gain experience in the publication process while providing professional feedback on their efforts. Available in both print and electronic formats, Spark makes a specific effort to emphasize the lasting value of the featured content.
"My goal was to establish a high-quality, paying market where emerging authors and poets are published alongside respected and established writers," said Brian Lewis, founder and Editor-in-Chief of Spark. "To maintain that high quality, I am committed to the idea that every contributor should be paid for their writing—whether they are experienced professionals or first-time submitters."
Lewis explained that while he is personally funding the anthology, he is able to offer minimal semi-professional payment to each author and poet accepted for publication. "That's not enough," he emphasized. "The quality and talent displayed by these writers is excellent, and I want to pay accordingly."
A successful fundraising campaign means that Brian's out-of-pocket costs will be covered, and he will be free to compensate contributing authors and poets at the level he feels they deserve. "When you support Spark, you're supporting great writing, period."
Spark's Kickstarter campaign invites global participation in the ongoing project, and includes exclusive rewards for its backers, from advance-order eBook copies of the anthology for US$4 contributions to signed and numbered copies of cover art for higher contribution levels. There are even rewards targeted at writers, such as personal critiques from one of three editors and gift subscriptions to Duotrope. Interested donors are encouraged to visit http://SparkAnthology.org/support for more information.
Brian Lewis is confident in the projected success of Spark, and excited by the interest the anthology has already received from writers and patrons of the literary arts. In less than ninety days, the editors at Spark have already received 350 submissions varying in skill levels and genres. "While Spark actively encourages submissions from new writers, regardless of age, we are looking for quality writing and artwork across all genres—from professionals and amateurs alike," said Lewis.
Spark has confirmed contributions from Todd Walton, author of Inside Moves, and John Stocks, a Mariner-award-winning poet from the UK. Traci Gourdine, the well-known poet from Davis, CA, currently chairs the Creative Writing Department at the California State Summer School for the Arts and will write the introduction to the inaugural volume. Margaret Dilloway, an alumna of CSSSA and author of How To Be an American Housewife and The Care and Handling of Roses With Thorns, is currently completing a solicited short story for inclusion in the anthology.
About Brian Lewis
Brian Lewis is an active member of the Editorial Freelancers Association, an alumnus of the California State Summer School for the Arts in Creative Writing, and a Senior Software Engineer working on a Master of Science degree in Information Security and Assurance.
About Spark
Spark: A Creative Anthology is administered and published by the Empire & Great Jones Creative Arts Foundation, a registered non-profit corporation with pending 501(c)(3) tax-exempt status. Additional details are online at http://SparkAnthology.org/about.
Spark's editor-in-chief is available for interviews, and results of a recent interview can be found at http://tinapollick.com/interview-with-editor-brian-lewis/.
To schedule your own interview with the editor-in-chief or to make inquires regarding the submission process, please contact:
Brian Lewis, Editor-in-Chief
editor(at)sparkanthology(dot)org
Phone: 916-669-0659
sms: 707-321-5123
Pre-submission questions: query(at)sparkanthology(dot)org