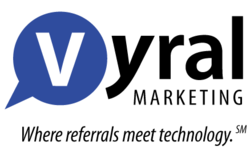 It's about maximizing the number one asset business owners already have – their existing customer database.
Omaha, NE (PRWEB) January 15, 2013
Omaha-based Vyral Marketing has introduced a video message strategy to complement traditional advertising programs that combines video technology and hands-on service to help business professionals position themselves as trusted experts in their field.
With a bit of coaching, Vyral Marketing places a video recorder and a script in the hands of clients like Realtor Jeff Quintin, owner of Jeff Quintin Real Estate in Ocean City New Jersey. The aim is to help produce a series of informative, twice-monthly video blogs to educate, inform, and stay in better touch with their customer database. These short video messages go a long way to encourage more repeat business and increased referrals.
In 2012 alone, 135 Vyral Marketing clients recorded more than 2,600 for distribution to their client databases. Once shot, the videos are uploaded to Vyral Marketing for full-service editing, optimization, and promotion. Each client receives coaching in advance, and a personalized topic and script upon request for each video. Vyral Marketing also provides the video editors, writers and administrative staff to handle the entire process, including distribution to the client's customer database via Email and social media.
Video blogs perform the same function as a traditional written blog, but have a better chance of nurturing personal connections with customers, and are faster to complete than a written article.
"I've found that creating two short videos each month is a great way to leverage my time," Quintin says. "I've found it to be invaluable for delivering problem-solving messages to my clients.
"We listen to our clients' concerns every single day, and we base our video blog messages on those concerns."
Quintin has sent 53 videos to his customer database since he started with Vyral Marketing's video strategy, and he says the results have been beyond his expectations.
"People who have seen the video blogs have a sense of already knowing you when they are ready to work together," Quintin says. "It's as if you've been like a guest in their home, and it creates a comfort zone when it comes time to meet face to face."
Quintin's videos focus on a range of simple to complex problem solutions in the real estate industry, and he often interviews niche experts for a thoroughly comprehensive video that addresses a particular concern to customers. Vyral Marketing provides Quintin with personalized topics for his videos, as well as complete distribution to the 3,600 people in Quintin's customer database via Email and social media.
"They actually do all the work for you," Quintin says. "I spend four to five minutes filming a two-minute video twice a month, and Vyral Marketing takes care of all the rest of the work.
"For a flat $525 per month, it is a core piece of our marketing strategy when it comes to ROI."
Vyral Marketing CEO Frank Klesitz says the company's video blogging service offers customers a fast-track to increasing sales from their own customer database.
"This is a business owner's opportunity to position themself as a trusted expert, increase customer loyalty, and boost referrals and repeat business," Klesitz says. "It's about maximizing the number one asset business owners already have – their existing customer database.
"We've combined highly-effective referral marketing techniques with the latest video technology, and we've designed it for busy business owners and professionals to reap the benefits of video blogging with a minimum investment of time and energy."
Klesitz says that participating clients are asked to shoot two short, educational videos monthly with Vyral Marketing's coaching for maximum benefit.
"We help you stay in touch with your entire database through these educational videos with a minimal time expenditure," Klesitz says. "With thousands of videos and literally millions of emails sent over the years, we know our clients who follow the Vyral Marketing program for 12 months can expect at least 10 percent of their customer database to buy again or refer others.
"For most of our clients, that's a dramatic boost in referrals and repeat business."
To learn more about Vyral Marketing's video blogging service for business, request a free Vyral Marketing consultation, visit the Vyral Marketing website, call 1-800-323-9974, or email frank(at)getvyral(dot)com.
###