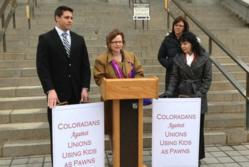 Kids will no doubt be used as union bargaining chips to pass the largest tax increase in Colorado history.
Denver, Colorado (PRWEB) April 30, 2013
A taxpayer revolt in Colorado has spurred the creation of a new committee, Coloradans Against Unions Using Kids As Pawns, which recently unveiled its plan to fight redistribution, unfair earmarks, and the largest tax increase in Colorado history.
Coloradans Against Unions Using Kids As Pawns is an official campaign effort to defeat Senate Bill 13-213, the Public School Finance Act and the petition effort to fund it in the November ballot. According to the August 2012 Final Report of the Colorado School Finance Partnership, the so-called "reforms" would mandate a tax increase on families and businesses, redistribute money from suburban districts to failing schools, reduce local control of school districts, and do nothing to help private, parochial or home-schooled children.
According to EdNews Colorado, Michael Johnston (D-Denver), the bill's sponsor, estimated the cost of his suggested reforms at more than $2.75 billion. While the full cost of a new finance system probably is higher, proponents are talking about asking voters for some $1 billion in new revenues, considered an amount that could be passed. Johnston warned against the temptation to enact some parts of the plan as individual bills. "If you nickel and dime parts of the package away you lose the political power you need for the grand bargain."
Aside from the redistribution of taxes between school districts, some of the tax increase will go to pay for government workers' retirement packages. "I don't want there to be a bait and switch for voters to think that they're funding a better, improved public school education system, and to find out that dollars are being diverted to fund an unsustainable retirement system," said State Treasurer Walker Stapleton in a Colorado Statesman article published Feb. 22, 2013. As State Treasurer, Stapleton serves on the board of the Public Employees Retirement Association and has sounded the alarm of PERA's $26 billion in unfunded retirement promises according to a Cortez Journal article published Feb. 20, 2013.
The Legislature must first pass the bill that allows the current system to be upended; then, the voters must pass a massive tax increase to pay for the new scheme. As many as 22 initiatives have been filed with the Colorado Secretary of State as placeholders with proposed tax increases that range from $927 million to $2.1 billion to fund SB13-213.
"Our hearts are breaking today because children in our public schools are failing, yet government bureaucrats continue to simply throw money at the problem," said Kristina Cook, chairwoman of Coloradans against Unions Using Kids as Pawns. "It is my opinion that SB13-213 is a redistribution scheme plagued with earmarks that would result in the largest tax increase in Colorado history – while doing nothing to improve our children's education."
"We predict that in their scheme to increase taxes, no doubt you will see their campaign using kids as union bargaining chips," said Cook. "The Public School Finance Act is designed to redistribute hard-earned money from families and small businesses to the investment accounts of bureaucrats in Denver who think they know better than parents and local district school boards how to educate children throughout the state, especially in places like Jeffco, Arapahoe, Douglas or El Paso counties."
The Coloradans Against Unions Using Kids As Pawns campaign committee includes several members of the former committee, Too Taxing for Colorado, which helped defeat Proposition 103, another tax increase initiative, in 2011.