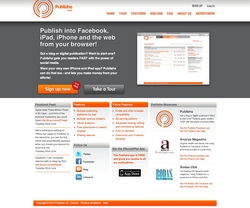 First we had Desktop Publishing, then came Webtop Publishing and now we have the Apptop Publishing revolution!
(PRWeb UK) July 7, 2010
Publisha calls its pioneering framework "Apptop Publishing". Anna Sjostrom, Publisha's Head of Marketing says: "First we had Desktop Publishing, then came Webtop Publishing and now we have the Apptop Publishing revolution! Publishers can target a new generation of media consumers who want to access content on their preferred digital platform. Apptop Publishing, made possible by the exponential adoption rate of PDAs and social media networks, is blazing the trail for how media will be consumed in the future."
Publisha's easy, integrated system gives publishing power back to the people, making it ideal for anyone from the independent blogger to new and existing magazine and news publishers who want to tap directly into where today's readers spend their time.
Publisha's CEO Ian Howlett adds "Publisha offers a new way of bringing content to readers. Unlike PDF readers, we're not trying to replicate print magazines, but rather focus on offering a service to bloggers, writers and publishers who don't want the constraints of a traditional magazine layout. Publisha's product tour shows how it allows even small teams to easily publish across multiple digital platforms, gain readers effectively and monetise their work in a complete ecosystem."
The strength of Publisha is the level of integration between modules, allowing for seamless sharing of data for precise targeting of articles and ads. At the heart of Publisha's Beta framework is a unique Facebook app that sits as an "articles" tab within an existing Facebook Page and enables publishing of full articles, interactive content, polls and takes advantage of inbuilt viral features. For example, when readers rate an article in the Facebook app it lets their friends know, in turn inviting them to read and share the article. Since the average Facebook member has 130 friends, a publisher or blogger with 10,000 fans has the potential of reaching 1.3 million readers!
Facebook is a natural place to discuss common interests, making it a great environment to serve content without the reader having to leave Facebook. This of course is also great for advertisers wanting to reach Publisha's niche readers. Publisha will transform the way people manage and distribute their digital content.
Content and readers on a Publisha publication can be monetised through advertising and, in time, subscriptions, affiliates and content syndication. Along with the publishing content management system, Publisha will develop an aggregated ad service to match advertisers to publications within their target market. By creating a large publishing community on one integrated platform, publishers will profit from aggregated ads and services across the network and advertisers will have direct access to the highly desirable trend-setting niche audiences.
Although Publisha is in early Beta and only soft-launched their platform with basic features a few weeks ago, the take-up from publishers has been tremendous. Beta test invites in a forum resulted in 25 sign ups within the first 2 hours. One of them, award winning bridal magazine Bodas USA from California, has since become one of the first publications on the Publisha platform with a website, Facebook app, iPhone and iPad app. These and select other publications can be viewed on Publisha's homepage. The iPhone/iPad app can be downloaded from the App store.
Publisha is offering qualifying early adopters help gaining in their first 1000 readers and their own branded iPhone and iPad apps.
Anna Sjostrom concludes: "The publishing industry is under increasing pressure due to collapsing print ad revenues. The independent publisher of the future will be a small team publishing to large social audiences into apps and social network platforms, whilst monetising their work and readers through various revenue streams – welcome to Apptop Publishing!"
###