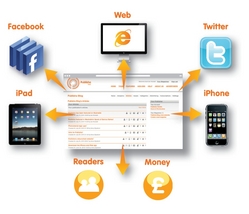 "Our participation in Seedcamp Week is not just about the potential investment money, but more importantly the development opportunity this affords us, with the experience of the mentors and invaluable contacts".
(PRWeb UK) September 9, 2010
600 European entrepreneurs applied for the places at London's Mini Seedcamp in August. Thanks to its unique proposition and strong business case, Publisha passed through two rounds of pitching and workshops at Mini Seedcamp, impressing the judges to take them through to the final stage at Seedcamp Week.
Since its launch this summer, Publisha has taken the digital publishing industry by storm, with over 1000 publications joining the platform in a matter of weeks.
Traditional media is suffering from decreasing readership and advertising numbers, while digital media is booming as the new generation of readers is embracing new mobile ways of consuming media. Succeeding in this new paradigm requires publishers to make their content accessible on an increasing number of platforms and devices, with the common feature being applications. Publisha is leading the way with their unique model of AppTop publishing, harnessing both social media and the new platforms in a comprehensive ecosystem.
Publisha enables publishers of magazines, blogs, newspapers and corporate communications to publish content simultaneously to web, Facebook, iPhone and iPad for free, with built in revenue streams. The Facebook app has drawn particular praise for its integrated approach and social media capabilities. Facebook has recently been coined as the next potential big publishing platform, having announced new readership growing and monetisation features, including the ability to sell magazine subscriptions and advertising from within the platform.
"We're very pleased to have been recognised so quickly in such a prestigious setting" says founder and CEO Ian Howlett. "Our participation in Seedcamp Week is not just about the potential investment money, but more importantly the development opportunity this affords us, with the experience of the mentors and invaluable contacts".
Despite strong contenders for the highly sought after spaces, Publisha and 22 other forward thinking European start-ups will work with Seedcamp's mentors and investors, made up of prominent business builders, to inspect and develop every angle of their business. This also makes Publisha the potential recipient of this year's Seedcamp investment fund of up to €50,000, along with a three month mentoring program in London for continued growth.
For more information about Publisha, please contact
Ian Howlett
ian(dot)howelett(at)publisha(dot)com
+44 (0)20 7717 9744 / +44 (0) 77 7833 771 512
http://www.publisha.com
About Publisha
Publisha is a free browser-based solution that allows integrated publishing across digital platforms, with built-in social media, analytics and revenue streams. Publisha builds a digital publication from one single dashboard across a website, Facebook, iPhone and iPad. The applications are designed to be easy to read and share. The revolutionary Facebook app creates an articles tab within a Facebook Page with fully searchable article archives, polls and other interactive content, which a publisher's fans can comment on and share on the platform and other social media, making it easy to grow readership.
Publisha has the tools to help publishers build and publish, gain readers and make money! Publisha is free of charge and works on a revenue sharing basis.
About Seedcamp
Seedcamp is a programme created to jumpstart the entrepreneurial community in Europe by connecting next generation developers and entrepreneurs with over 400 mentors from a top-tier network of company builders; including seed investors, serial entrepreneurs, product experts, HR and PR specialists, marketers, lawyers, recruiters, journalists and venture capitalists.
Seedcamp acts as a micro seed fund to invest in startup companies, mainly through our flagship event Seedcamp Week which takes place in September every year. To make sure we are honing in on all the new startup talent, we also run Mini Seedcamp programmes throughout several startup hubs around Europe from January-June. Seedcamp's standard investment is €30-50k. Following Seedcamp Week, the companies who receive investment stay in London for 3 months to grow and develop their company, building key and lasting business relationships along the way to help them sustain a viable business.
###