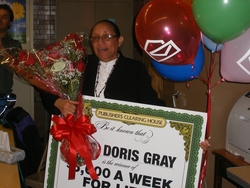 No matter how many winners we surprise or how much money we give away, it's a thrill for us every single time
South Orange, NJ (PRWEB) February 27, 2009
A New Jersey area woman received the shock of a lifetime today when she was visited by the drop-in guests anyone would welcome these days when most bank accounts are suffering from the economic downturn.
Doris Gray, 60, of South Orange, NJ, was surprised Thursday by the Publishers Clearing House Prize Patrol who named her the winner of one of its largest SuperPrizes ever: $5,000.00 A Week -- for the rest of her life.
Mrs. Gray learned on Tuesday that she had won a $1,000 prize in the sweepstakes and was on a "short list" to win "the big one." But she was unprepared for the Prize Patrol's arrival -- with a giant prize certificate and bouquets of roses and balloons. The unannounced, videotaped notification of the winner is a Publishers Clearing House tradition and a perennial centerpiece of the company's TV campaigns.
Mrs. Gray is a math teacher at PS 12 in Paterson, NJ. She was surprised by the Prize Patrol on her lunch hour, when the school principal called her to the lunch room. In front of the lunch room packed with children and her husband Willie (whom the Prize Patrol found at their home), Gray was shocked, teary and speechless to learn of her win.
Following Thursday's announcement of Mrs. Gray's win on The NBC Nightly News with Brian Williams, her "winning moment" will be shown on one of the company's websites, http://www.pchtv.com where archival video footage of Prize Patrol visits can be seen.
Mrs. Gray is the 54th Publishers Clearing House winner of one million dollars or more, joining a roster of other SuperPrize winners including Jack Genner of Nebraska, Marcella Longnecker of Minnesota, Natalie Bortelsman of Ohio, and Ginny Jackson of Texas. This SuperPrize brings the total awarded in the company's sweepstakes to over $220 million -- in major prizes alone.
"No matter how many winners we surprise or how much money we give away, it's a thrill for us every single time," said Dave Sayer, the Prize Patrol head who has presented virtually every major Publishers Clearing House Sweepstakes prize since 1981.
For those who didn't have Mrs. Gray's luck this time around, there are always more opportunities to win. The company faithfully awards scores of major prizes all year long including another $1 Million prize this summer. More and more prizes are now being won by persons who entered the Publishers Clearing House Sweepstakes online - as the general public is welcome to do - at http://www.pch.com.
Publishers Clearing House, a direct marketer of magazine subscriptions and merchandise, was founded in Port Washington, NY in 1953. Its name has become synonymous with the sweepstakes and prizes it has used since 1967 to draw attention to the "unbeatable" deals and values offered in its colorful mailings. Nearly half of the Publishers Clearing House profits are donated to charitable causes ranging from social services to the environment.
For more information, visit http://www.pch.com.
NOTE: Some media are under the mistaken impression that Ed McMahon is or was associated with Publishers Clearing House. He formerly worked for a competitor.
# # #