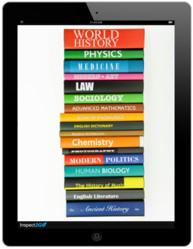 Inspect2GO software makes the classroom more efficient
Los Angeles, CA (PRWEB) August 31, 2012
Inspect2GO (http://www.inspect2go.com/) has initiated development of new interactive software for use by publishers, instructors and students. Each project is custom, tailored to the unique needs of the client. Prospective clients include universities, schools, publishers and government institutions. Capabilities include student/professor relationship management, class calendars, iPad and web accessible educational materials (ebooks, educational videos, interactive lessons…), testing, surveys and checklists. New capabilities are added to the software with each new project. Possibilities include:
Software and iPad Applications – Education and Publishing

Books – Textbooks converted to eBooks
Purchase – 1-time or recurring fee for software and applications, setup and managed as a service
Data – Data entry via mobile tablet (iPad) as forms, workbooks, worksheets, lab notebooks…
Education - View educational materials (training videos, textbooks, multimedia)
Testing - Evaluate student performance, competency, assessment, score, rate, grade
Field – Use on-location, offsite, in the classroom…
Reports – Reporting on student performance, notifications…
Admin – Admin login for setup/viewing
Instructor Web Admin – Instructor edits test questions, instructional information and author new content via web admin portal
Student Web Admin – Access study plans, test scores, calendar, education materials, curriculum, etc.
Upload - Photos, videos, ebooks, reports, test scores (private), etc.
Sync - Mobile data to cloud database push/pull, upload/download and web services
Mobile – iPad mobile app for us in classroom, in field testing, offsite locations, at home and school
Tracking – Student roster, class registration, performance
Education

Professor/instructor/teacher/ student/children
Graduate school/post graduate/grad student (research projects)
College /university
K-12 (grade and high school)
Trade School
Technical education
Home schooling
Media

Print media
Publications/Publishers
Books/Textbooks
Newspapers
Magazines/Trade Journals/Newsletters
Multimedia
Interactive Educational Materials
Checklist, Surveys, Audits, Forms, Lab Notebooks, Worksheets, Test sheets on iPad
Funding

Federal grants/Beta site testing for government/
Research project grants
Cost effective proof of concept and pilot programs
Private industry
ABOUT INSPECT2GO
Inspect2GO is a mobile application, cloud database and software development company based in Southern California. The firm's mobile technology includes inspection checklists and apps with signature, photo, markup, custom reporting, pdf, rating, statistics, charting, graphing and database functions. The software is compatible with Apple iOS (iPhone, iPad), Windows Mobile and Android tablets/phones. Inspection results are sent to Inspect2GO's cloud database for storage. Reports, graphs, trends and data feeds can be retrieved from the cloud server via a browser-based web portal.