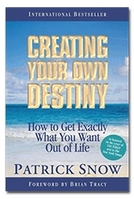 Many small-business owners have under-charged for years, hence many struggle to make it
Bainbridge Island, WA (Vocus) February 18, 2009
Patrick Snow, best-selling author, inspirational speaker, and Internet entrepreneur today released the ninth edition of his book, Creating Your Own Destiny: How to Get Exactly What You Want Out of Life, for the price of one thousand dollars.
"The $1,000.00 price tag is actually a good value given the wealth of strategies, techniques and ideas provided to help readers clearly define what they want in life," said Snow, age 40. "This best-selling book then provides an easy-to-follow road map on how to get it."
Even in these tough economic times, Snow believes his book is not overpriced because readers throughout the world tell him his book is life-changing and "priceless."
In fact, he is convinced that all the other self-help and business books on the market today are severely underpriced!
Included with the purchase of the book is a two-hour phone consultation with Snow. The book is also available without the personal coaching session for only $24.95. This book is available at bookstores worldwide, Amazon.com and CreateYourOwnDestiny.com
Most soft cover books are priced from $12.95-$19.95 and hardcover books are priced from between $19.95-$29.95. Snow believes the self-help and business book market is crowded with under priced books full of wisdom and life experiences. As a result, most authors do not make any money for their priceless intellectual property. A fan of Seth Godin's book, Purple Cow, Snow says that Godin preaches that they key for small-business owners is to find a way to stand out in the crowd and be different in order to get noticed.
"Many small-business owners have under-charged for years, hence many struggle to make it," he said. Every time he has raised his speaking fee he has booked more engagements. Snow says small-business owners don't need more clients; they need to provide more value and charge their existing clients more for their products and services.
Snow and his wife, Cheryl have lived in the greater Seattle area since 1991. They have two sons. For more information, visit http://www.WorldsMostValuableBook.com
Contact:
Patrick Snow
206.780.1787
###