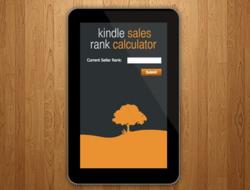 "Rankings inside Amazon searches are so important to Kindle books," said Ryan Deiss. "Just like people use Google, when they come to Amazon and they're searching for a particular subject, this is what they want to see."
Austin, TX (PRWEB) August 25, 2012
Publishing for Kindle and monitoring an eBook's performance just got a lot easier, thanks to the Kindle Sales Rank Calculator has been released by Digital Marketer as they continue to approach the complete launch of the Number One Book System.
The Kindle Sales Rank Calculator allows self-published authors to learn their total number of eBook sales based on their Amazon Bestsellers Rank. As eBooks move up in the rankings, the daily sales numbers are calculated using a Digital Marketer-created analytical system, and authors are able to determine their book's performance over the course of its published life.
Digital Marketer will fully launch the Number One Book System on Monday, August 27, 2012. The community-based program will reveal all the secrets to becoming a published author and achieving an Amazon bestseller.
Leading up to the full program launch, Digital Marketer has been providing audiences with an all-access look into the self-publishing process. After submitting a book on vertical gardening to the extensive collection of Amazon customers, the strategies for gaining downloads and reviews are revealed to show people the amazing power of publishing on Amazon.
Subscribing to The Great Kindle Challenge now will give an inside view of the strategies that Digital Marketer lead publisher Ryan Deiss uses with Amazon Kindle eBooks. The goal is to reach 10,000 books sold in one week, and subscribers are eagerly waiting to see if Deiss and his crew can meet the challenge.
The anticipatory content has taken the form of The Great Kindle Challenge, which is updating subscribers daily with videos messages and additional resources to prime the motors of the Number One Book System. Along with the Kindle Sales Rank Calculator, Digital Marketer has dished out two free Kindle eBook, "The Kindle Publishing Revolution" and "How to Sell 100 Books a Day." Both are filled with valuable information on the ascendancy of Amazon eBooks into the forefront of the world of written content.
"Rankings inside Amazon searches are so important to Kindle books," said Deiss. "Just like people use Google, when they come to Amazon and they're searching for a particular subject, this is what they want to see."
Customers can reserve their spot in the Number One Book System program and also have access to a free live event with limited availability for early registration. They'll learn everything there is to know about publishing on Kindle, and will have the skills and strategies in place to earn real success, income, and online exposure.
Amazon is such a compelling vehicle for sharing content and ideas, according to Digital Marketer, and they are thrilled to be bringing such an innovative system to all the budding authors looking for a way to publish for Kindle. They're figuring out how to make their eBooks available to the biggest collection of book readers on the Internet.
Digital Marketer releases informational and educational materials to help businesses and entrepreneurs gain insight and information on the trends, data, and strategies that can take them to the top of their industry. Through their RAW Training courses, strategic plans, blogs, newsletters, site reviews, and Special Reports, Digital Marketer supercharges every single marketing campaign it touches. For more information, visit DigitalMarketer.com.