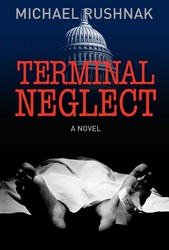 Can you completely trust our government to save your life?
Exeter, NH (PRWEB) June 10, 2008
You trust your doctor with your life, but who does your doctor trust? In the news, we often hear of real-life stories of drug companies removing FDA approved pharmaceuticals from the market because of serious side effects...or even worse. Blurring the lines of ethical practice, it sometimes appears as though they will stop at nothing to convince us, and our doctors, that their medicines are safe and we need them. But are they? Do we? How far will it go before someone puts a stop to this sensationalized promotion of their products? How many innocent people will die because they did not fully understand the risks in taking the prescribed drugs?
Dr. Michael Rushnak captures the all-too-real turmoil in his new novel, Terminal Neglect. Terminal Neglect may only be a work of fiction, but the issues that are dealt with in the book are a reality that affects us all. How many of the FDA-approved drugs are causing more harm than good? How many drugs on the market will receive the black box label, the most severe warning a drug can have, and continue to be available?
In a day and age where male enhancement and anti-depressant drugs can be seen during every commercial break, and publicized drug reports only relay the positive trial results, Terminal Neglect may not seem too far fetched. Through the prism of Rushnak's experiences in the health care arena, readers will take a ride to the "dark side" where the worlds of medicine, politics, government, and big business collide in pulsating ethical and mortal conflict. Though this tale is fiction, Dr. Michael Rushnak hopes to provoke thoughtful conversations about improving the health care that we receive, alerting the public to potential dangers lurking just over the edge of the horizon, when those sworn to protect us fail to do so. And when it comes down to the wire, he asks, "Can you completely trust our government to save your life?"
Advanced copies and interviews available on request
Contact Carol Corbett of PublishingWorks at (603)-772-7200
Terminal Neglect
Michael Rushnak
ISBN-13: 9781933002699
Pub date: September 25, 2008
PublishingWorks
Hardcover 7 x 9
Page Length: 336
Price: $24.95
About the Author:
Michael Rushnak, M.D. lives in New Jersey with his wife. He graduated from Rutgers Medical School in 1974 and is board certified in both internal medicine and gastroenterology. Dr. Rushnak was the senior founding partner of a private practice group until he "retired" in 1992 to focus on public health issues. He has earned a Masters in Public Health and been elected chairman of a local major political party. He has worked in a State Department of Health, a major Blue Cross Plan, a national pharmacy benefit manager, and a biotech pharmaceutical company. For more information, visit Michael Rushnak Books
###