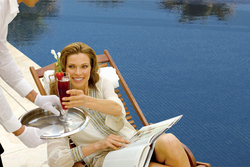 Pacifica's personal butlers go above and beyond to take care of our guests' every need and ensure they have the most relaxing and carefree vacation possible
Cabo San Lucas, Mexico (Vocus) August 4, 2009
Pueblo Bonito Pacifica Holistic Retreat & Spa, located on the pristine Pacific Ocean side of the Baja Peninsula in Los Cabos, announces a new and complimentary personalized butler service in all Ocean View Suites. Guests indulge and relax in the minimalist luxury of Pacifica while personal butlers take care of every need.
From the moment of check-in, butlers assist in every way possible to ensure guests have an unforgettable experience at Pueblo Bonito Pacifica. The personal service team offers guests an in-suite check-in and resort orientation, makes dinner reservations, schedules spa appointments, coordinates dry cleaning, unpacks luggage, arranges an in-suite luxury bubble bath and coordinates in-suite dining.
As part of the complimentary personalized service, butlers also assist in planning excursions or day trips. They make all the necessary arrangements including booking the excursion, arranging transportation and ordering a to-go meal, if necessary. Upon return from the day trip, guests can expect to find their shoes shined and beds turned down in preparation for a peaceful night's sleep.
For guests planning a special event, meeting or cocktail party at Pacifica, personal butlers arrange and supervise all aspects of these important gatherings. Butlers work with hotel staff to prepare refreshments, decorate the venue, invite musicians and arrange for guest transportation. No request is too large or too small for Pacifica's knowledgeable and resourceful team.
"As the first and only wellness-oriented resort designed exclusively for adults in Los Cabos, we are committed to providing the highest level of service", said Alejandro Santander, General Manager of Pueblo Bonito Pacifica. "Pacifica's personal butlers go above and beyond to take care of our guests' every need and ensure they have the most relaxing and carefree vacation possible".
For additional information or to book a stay at Pueblo Bonito Pacifica, please visit http://www.pueblobonitopacifica.com .
About Pueblo Bonito Oceanfront Resorts and Spas:
Pueblo Bonito Oceanfront Resorts and Spas offer uncommon amenities, unsurpassed service, and the warmth of a luxurious Mexican home. The collection includes properties in Los Cabos -- Pueblo Bonito Pacifica Holistic Retreat & Spa, Pueblo Bonito Sunset Beach Resort & Spa, Pueblo Bonito Rosé Resort & Spa, and Pueblo Bonito Los Cabos; two in Mazatlán -- AAA Four-Diamond Award winning Pueblo Bonito Emerald Bay Resort & Spa and Pueblo Bonito Mazatlán. Pueblo Bonito Oceanfront Resort and Spas' is the recipient of many prestigious awards including Travel + Leisure's 2008 Gold List for the categories Best Hotel in Food in the Americas recipient Pueblo Bonito Sunset Beach Resort & Spa and Best Hotel in Design in the Americas as well as Conde Nast Traveler's Reader's Choice Awards for the past two consecutive years. Pueblo Bonito Sunset Beach Resort & Spa was recently included on Conde Nast Traveler's Gold List for 2009 for the second year in a row.
MEDIA CONTACT:
Quinn Doan, Novom Marketing, (323) 882-8333
Irine Krass, Novom Marketing, (323) 882-8333
###