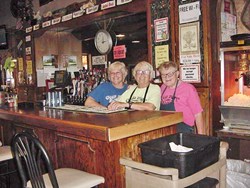 Pueblo, CO (PRWEB) November 14, 2013
Restaurants in the Pueblo, CO area are taking advantage of the Black Hills Energy Small & Medium Business Direct Install Program to complete energy-efficiency improvements that are helping them save money and energy. Not only are these restaurants saving substantially on their electric bill, but they are also receiving an incentive from Black Hills Energy that can cover up to 60 percent of the total costs. Customers are also able to finance the remaining portion of their costs interest-free, resulting in little to no up-front costs.
Gold Dust Saloon owners Ruth McDonald and Shelly Riddock took advantage of the Black Hills Energy Small & Medium Business Direct Install Program for their restaurant in Downtown Pueblo. McDonald and Riddock received a free energy evaluation from SmartWatt Energy, the contractor administering the Black Hills Energy Small & Medium Business Direct Install Program. SmartWatt determined that replacing the existing interior and exterior lighting with energy-efficient fluorescent and LED lighting fixtures would result in substantial energy savings. The new energy-efficient lighting systems are saving the owners $92 per month on their electric bill, plus they received an incentive of $1,784 from Black Hills Energy.
In addition to saving money, these new lighting systems have reduced the restaurants environmental impact by removing pollutants from the air. These energy-efficiency upgrades have had an equivalent effect on the environment as planting 152 trees or saving 663 gallons of gasoline per year, according to U.S. Environmental Protection Agency calculations. For more information on the Black Hills Energy Small & Medium Business Direct Install Program, visit http://www.bheSaveMoney.com.
ABOUT SMARTWATT ENERGY, INC.
SmartWatt Energy is a unique energy-efficiency firm. It provides turnkey solutions for utilities, commercial, industrial and institutional clients and also develops proprietary software that streamlines internal workflow processes and provides comprehensive program reporting. SmartWatt's three divisions use cutting-edge technologies, design and processes to take on and solve their client's toughest sustainability challenges:

The Commercial, Industrial and Institutional Division works with end-use clients throughout the United States to design and install multi-measure energy-efficiency projects. Clients look to SmartWatt to provide large-scale savings through turnkey energy auditing, engineering, project management and installation services.
The Utility Division contracts directly with utilities to manage their commercial energy efficiency programs. SmartWatt's vertically integrated program delivery platform ensures utility program success and client satisfaction, because all elements of the utility program are handled by a talented, integrated, cross-functional team.
The Software Development Division creates customized, proprietary software applications to increase efficiencies and provide added value to utilities and national accounts clients.
SmartWatt has won an Inc. magazine "Hire Power" award and has been named the "5th Fastest Growing Private Engineering Company in the United States" on the magazine's annual 5000 list. For more information, visit http://www.smartwattinc.com.