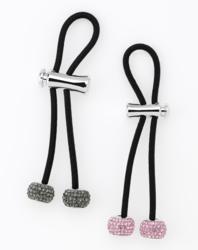 Featured at NY Fashion Week, Pulleez transforms the modern ponytail.
New York, NY (PRWEB) July 26, 2012
On Tuesday, July 31st from 10:00 AM – 8:00 PM, Pulleez ponytail holder creator Diana Wright will host an in-store "Pony Bar" with the latest styles from her line that is now a permanent product sold in the hair accessory room of Henri Bendel, 712 Fifth Avenue, New York City.
A former fashion show producer, Diana set out to create a comfortable and stylish hair accessory that wouldn't snag hair as traditional elastics do. She spent more than a year handcrafting the pieces until they became effortless to wear.
"A ponytail should be both beautiful and functional, a modern answer to an active woman's lifestyle," Diana said.
Diana brought ponytail holders to New York Fashion Week last season where they were an instant hit with both designers and models. Many of the models wore the pieces on their wrists as bracelets. Encouraged by the response, she decided to build a brand to meet the demand.
Pulleez are secured by sliding hair through the elastic once. The wearer then squeezes the Pulleez while pulling the elastic to a desired tightness. There is no need to wrap the elastic multiple times as with conventional elastics. To release, simply squeeze again to open and slide it out. The design completely eliminates hair snagging.
Pulleez International Inc. is based in New York. Pulleez are sold at Henri Bendel NY and select retailers nationwide. Pulleez are also available online at http://www.pulleez.com and http://www.folica.com. Retail Prices range from $14 to $24. For more information or to contact the designer please contact info(at)pulleez(dot)com.