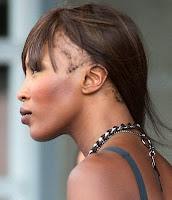 Pulleez allows women with fragile hair and damaged scalps to pull back their hair without further damage.
New York, NY (PRWEB) August 02, 2012
An increasing number of women are suffering from severe scalp damage and hair loss that results from constant stress on the hair folicle. The condition, Traction Alopecia, affects women who constantly wear tight ponytails, braids and hair extensions. Pulleez ponytail holders have been credited with saving hair in the beginning stages of the condition.
"I explain to new clients that severe ponytails and braids can weaken hair and that it's important to have the right accessories to keep the hair follicle in tact," says Jade Schork, a freelance photo shoot stylist and senior stylist at Jon Lori Salon in Fair Haven, NJ. "Pulleez allows women with severely damaged hair to wear their hair in a ponytail, without snagging or pulling,"
Pulleez ponytail holders were created as a chic, simple solution putting hair up in a pony or bun. As an additional benefit, the Pulleez sliding mechanism puts very little tension on the hair yet stays securely in place. The patented design allows women to easily secure a low pony or loose braid.
Pulleez ponytail holders are secured by sliding hair through the elastic once. The wearer then squeezes the Pulleez while pulling the elastic to a desired tightness. There is no need to wrap the elastic multiple times as with conventional elastics. To release, simply squeeze again to open and slide it out. The design completely eliminates hair snagging.
Celebrities including Britney Spears, Naomi Campbell, Victoria Beckham and Paris Hilton have all reportedly suffered from beginning to advanced stages of Traction Alopecia. There is speculation that Kim Kardashian's hairline is receding due to similar pressure from hair extensions and tight ponytails.
"Much of the success we've had with Pulleez since we've launched has been with models and celebrities who want to pull back their hair without damaging it," said Pulleez creator Diana Wright. "As a result of their professions there is great pressure to have long, beautiful hair."
Wright added that the exploding market of salon hair extensions has inspired women to seek gentle hair accessories like Pulleez.
Traction Alopecia can be been avoided by switching to looser styles periodically and by visiting a dermatologist when hair loss and scalp damage first manifests. In addition to tight ponytails and hair weaves and extensions, over-processing fragile hair with chemical treatments such as hair coloring and relaxers can exacerbate the condition.
Pulleez were launched at Spring Fashion Week 2012 and were immediately picked up by retailer Henri Bendel. Pulleez are also available online at http://www.pulleez.com and http://www.folica.com. Retail Prices range from $14 to $24. For more information or to contact the designer please contact info(at)pulleez(dot)com.