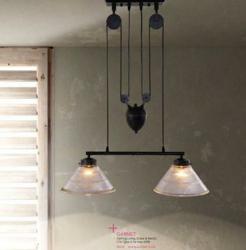 The whimsical nature of pulley lights and the variety and playfulness of their design is perhaps their greatest appeal.
(PRWEB) May 24, 2013
HomeThangs.com – the Online Home Improvement Super Store has made it their goal to deliver the right product to the consumer. With that in mind, shopping and home design tips, as well as special product selections are being introduced.
Reclaimed materials have become hugely popular lately, from salvaged barn beams to wrought iron parts and pieces. Old wood, brick, and stone are all objects of a sort of industrial modernism borne from the trend of converting old warehouses into luxury apartments. Pulley lights are a key element of this aesthetic, recreating antique industrial fixtures for a contemporary home.
Pulley lights are pendant lights based on antique industrial and farming fixtures. They're made with one or more pulleys, usually one counterweight, and a very long, winding cord. All these gears and oiled metal parts aren't merely aesthetic choices either - they're also quite functional. The pulleys allow the light to be moved up and down and even side to side, while the weight keeps it in place wherever it's positioned. That means even a simple pulley light can be used both for full-room lighting and close up illumination, like a reading lamp.
The mobility of pulley lights makes them an ideal choice for a variety of different areas. They work well as pendants over a table used both to eat and work, in a living room near a reading chair or game table, or as a kitchen lamp. Many of these industrial style lights have a handle built into the milk-can style shades, making them easy to pull up and down, either casting light over a wide space or zeroing in on smaller one, like a prep area.
Pulley lights usually come in ones and twos for the simple reason that weights and counterweights are easier to manage in singles and pairs. But even so, there are a multitude of designs out there, ranging from simple sleek pulleys to more unique and quirky designs like an expandable line of spring-rings or a scissor style extension pendant.
The whimsical nature of pulley lights and the variety and playfulness of their design is perhaps their greatest appeal. Made for functionality in a time with fewer modern conveniences, pulley lights have more parts than it would take a similar, contemporary light to do the same job, but are more artistic for their innovative and sometimes wild solutions. With a variety of bits and bobs, twirls and loops, and surprising balances and counterbalances, pulley lights not only come in a great range of styles, but are consistently unique from any other type of light, offering a playful statement piece with some of the gritty, reclaimed, industrial style that works so well in a modern loft.
While large pendant lights are usually placed over large, built-in pieces of furniture in fixed, central locations in the home, pulley lights work exceptionally well in work spaces, like drafting tables, work benches, or the like, especially in a high-ceilinged loft. Just a light touch of the shade can direct light to any part of a workspace without taking up any space on the desk itself, and can easily be pushed up and out of the way. Because the lean, simple lines are equal parts art and architecture, they'll blend aesthetically as well as functionally with an artistic workspace.
While the majority of pulley lights are pendant lights, they do come in other forms as well, including floor lamps. Pulley floor lamps are designed to swivel, raise, and lower, and in some ways are more sculpture than anything, though they're also more flexible than most any other type floor lamp in terms of directing light without having to relocate the lamp itself. Like a hybrid of old fashioned swing-arm lamps and modern arc lamps, the light can shine a decent distance away from the base, offering greater, more flexible illumination.
To see more pulley lights from Zuo Modern, read the full article here.
HomeThangs.com is more than just a Home Improvement Superstore. They're constantly seeking to provide homeowners and designers with the right products at competitive prices. With a wide selection of products, expert design tips, and comprehensive shopping guides, Homethangs is a company that's there at all stages of the design process, from idea to execution. It's their goal is to make dream remodels doable.