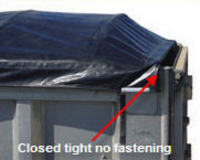 The Rear Closer makes all other cable type tarping systems obsolete
El Cajon, Ca (PRWEB) February 1, 2008
The Automatic Rear Closer for Super Slider cable tarp systems is the newest innovation for tarping dump trucks and trailers. "The Rear Closer makes all other cable type tarping systems obsolete" said Glenn Ray Director or Marketing for Pulltarps.
This exclusive Pulltarps innovation for truck tarps, automatically closes to seal off the load at the tailgate. This is a big advantage over other cable tarp systems that rely on a rear flap to contain the load. The Automatic Rear Closer eliminates the rear flap and the need to climb up on the tailgate to fasten it down. The advantages follow:
Safer
Saves time
Seals better
Automatically Closes
No more climbing on the trailer
More aerodynamic for better fuel mileage
The Automatic Rear Closer holds the tarp up above the load, then closes automatically as the tarp reaches the tailgate. The Closer arms pull the tarp down tight at the tailgate to seal off the load.
The Automatic Rear Closer is a Pulltarps exclusive and can be ordered as an option on all Super Slider cable systems.
For a free video and catalog on all Pulltarps products call (800) 368-3075 or visit us at http://www.pulltarps.com .
Since 1989 Pulltarps manufacturing has been providing high quality, reliable and cost effective truck tarp systems for the construction industry. We offer a full range of advanced tarping solutions for covering Dump Trucks and Dump Trailers. Our tarp systems are built to last and include Electric and Manual Arm Tarp Systems, Cable Tarp systems, and manual or electric Pulltarps. We use only quality tarp fabrics that include heavy duty mesh, vinyl and urethane coated vinyl for tarping hot asphalt. Pulltarps is a registered trade mark of Pulltarps Manufacturing, 1404 North Marshall Avenue, El Cajon CA, 92020.
Contacts:
Sales:
Rick Cerda Sales Manager
Phone: 800-368-3075
###