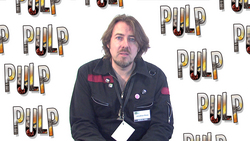 The Pulp team are building a contemporary comedy brand, and they've made a number of innovative decisions that really make Pulp stand out from the crowd.
(PRWEB) April 14, 2011
In a unique deal, the producers of indie comedy feature film Pulp have inked commercial terms with AOL UK to distribute original video content built around the Pulp brand.
Pulp is set in the irreverent world of comic book publishing and has been produced by Dare Productions and Reels in Motion Films. Pulp is a grass-roots homage to all things geek: comic books, movies and video games.
The partnership will launch with a series of interviews with movie and comic fans, and celebrities, and support the general release of the feature film due in 2012. The Pulp interview series will launch on 21 April, distributed exclusively across the AOL network via Asylum UK (http://www.asylum.co.uk/), AOL's men's lifestyle channel, and will be released weekly in 2-3 minute episodes.
Each of the Pulp videos are funny, engaging, authentic, and in some cases, fairly controversial. The topics discussed reflect conversations we've all had, which gives Pulp real international appeal. From a postal worker in Manhattan to a stockbroker in Cape Town, at some point we've all asked ourselves who would win in a fight between Superman and Batman.
"We're extremely excited to launch the Pulp interview series. The interviews are humorous and inspired and this partnership allows us to build on our ability to deliver on our strategy and provide top quality original content to our audiences online," said Noel Penzer Vice-President, Business Development, AOL Europe UK.
"The Pulp team are building a contemporary comedy brand, and they've made a number of innovative decisions that really make Pulp stand out from the crowd. The content is a great fit for Asylum UK, which also has a unique voice in the men's lifestyle arena through its smart and humorous take on the world around us."
The interview series is the first stage of a wider Pulp channel strategy. Adam Hamdy of Dare Productions said, "We're working on some great original content. Online video entertainment is coming of age and there's now a real opportunity to create high value comedy programming for an online audience."
Despite being entirely independently financed, Pulp the feature film is building up a global following and a real head of steam. Phil Bland, producer of Pulp said, "To be partnering with a global company like AOL even before we've completed post-production is a real endorsement of what we've created."
The deal was brokered by Dare Productions' commercial manager, Pat Nelson of Syndicate Works, London.
PULP - http://www.pulpthemovie.com
About THE PULP CHANNEL:
An online comedy channel dedicated to all things geek: movies, comic books and video games. The Pulp Channel will offer exclusively online original programming to a global audience. The Pulp Channel content will be distributed globally by AOL. The Pulp Channel will launch on 21 April 2011.
About AOL:
AOL (UK) Limited, subsidiary of AOL Inc., is part of a leading global Web services company with an extensive suite of brands and offerings and a substantial worldwide audience. AOL's business spans online content, products and services that the company offers to consumers, publishers and advertisers. AOL is focused on attracting and engaging consumers and providing valuable online advertising services on both AOL's owned and operated properties and third-party websites. In addition, AOL operates one of the largest Internet subscription access services in the United States, which serves as a valuable distribution channel for AOL's consumer offerings.
About PULP, THE MOVIE:
Tony Leary, the nice-guy owner of Junk Comics, is gearing up for one last roll of the dice. Nothing will stop his new superhero comic The Sodomizer from being a success except a gang of Geordie criminals who are using another comic company to launder their dirty money. Aided by his trusty geek sidekicks, Rick and Keith, Tony must defy the odds if he is to become a real life hero.
Pulp is directed by Adam Hamdy and Shaun Magher, and produced by Phil Bland, Phil Chalk and Adam Hamdy.
###