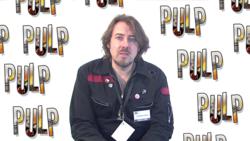 I was openly laughed at on a train for reading Tintin in my twenties.
London, England (PRWEB) April 21, 2011
In the shock of the century, Jonathan Ross has revealed himself to be a geek. To some Ross is a charming, erudite chat show host, but one of the UK's best dressed men hides a dark comic collecting, toy enthusiast secret: he is a geek. Click here to see Ross make the revelation on the first episode of the Pulp Interviews. This shocking news is revealed in the first episode of the 'Pulp Interviews', a series of online debates about all matters geek. In the episode, Ross reveals that he was '…openly laughed at on a train for reading Tintin…in my twenties." Tragic.
The first episode of the 'Pulp Interviews' is devoted to settling the age-old battle between nerds and geeks, and it looks like the geeks come out on top, with many interview participants declaring themselves proud to be on Team Geek.
Ross reveals that as a child he mutated into a geek because he didn't have a lot else going on; "…so it was kind of comics, or just sit alone, at home looking at the wall."
Pulp has roped in a number of thought leaders to join these debates. In addition to Ubergeek, Jonathan Ross, tv presenter and comedian, Nick Hancock, reveals his geek credentials, 1966 England World Cup football hero Gordon Banks shares his views on the changing nature of Geekdom, and Coronation Street's Craig Charles espouses radical theories on Star Wars.
Distributed exclusively across the AOL network via Asylum UK, AOL's men's lifestyle channel, the Pulp Interview series, to be released weekly in 2-3 minute episodes, is a platform for movie and comic fans to debate some of the world's most important issues: who would win in a fight, Batman or Superman? Why didn't Gandalf just use the big eagle to drop the ring in Mount Doom? Who was the best captain of the Enterprise?
The videos are part of an emerging new comedy brand that includes Pulp The Movie, a comedy feature film due out in 2012. Pulp is set in the irreverent world of comic book publishing and has been produced by Dare Productions and Reels in Motion Films. Pulp is a grass-roots homage to all things geek: comic books, movies and video games.
About THE PULP CHANNEL:
An online comedy channel dedicated to all things geek: movies, comic books and video games. The Pulp Channel will offer exclusively online original programming to a global audience. The Pulp Channel content will be distributed globally by AOL. The Pulp Channel will launch on 21 April 2011. (http://www.pulpchannel.com)
About AOL:
AOL (UK) Limited, subsidiary of AOL Inc., is part of a leading global Web services company with an extensive suite of brands and offerings and a substantial worldwide audience. AOL's business spans online content, products and services that the company offers to consumers, publishers and advertisers. AOL is focused on attracting and engaging consumers and providing valuable online advertising services on both AOL's owned and operated properties and third-party websites. In addition, AOL operates one of the largest Internet subscription access services in the United States, which serves as a valuable distribution channel for AOL's consumer offerings.
About PULP, THE MOVIE:
Tony Leary, the nice-guy owner of Junk Comics, is gearing up for one last roll of the dice. Nothing will stop his new superhero comic The Sodomizer from being a success except a gang of Geordie criminals who are using another comic company to launder their dirty money. Aided by his trusty geek sidekicks, Rick and Keith, Tony must defy the odds if he is to become a real life hero.
Pulp is directed by Adam Hamdy and Shaun Magher, and produced by Phil Bland, Phil Chalk and Adam Hamdy.
###