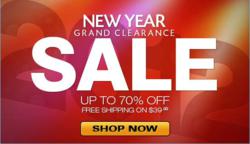 It was always our vision to offer our beloved customers inexpensive yet high-quality medical uniforms and nursing scrubs.
(PRWEB) January 05, 2012
The year 2011 marks the many achievements of Pulse Uniform in so many areas that the company decided to embark its 70% off grand clearance sale not at the end of the year but right at its beginning. This January, brand products offered by the company such as Dickies scrubs, Cherokee workwear, and Jockey scrubs among others were included in the said sale. Other Dickies products that are not included in the grand sale are also priced 35% off and Jockey scrubs are still available already 20% marked down. Cherokee scrubs on the other hand start reasonably at $11.95.
"It was always our vision to offer our beloved customers inexpensive yet high-quality medical uniforms and nursing scrubs like Cherokee scrubs. This year, we have planned to start the year with many promos and discounts as our way of expressing our gratitude toward our nurses and other medical practitioners who sacrifices a lot just to give us the healthcare we need. It is also our way of saying 'thank you' for giving us an opportunity to expand our market in 2011," said Vice President for Marketing Rick Garren in a correspondence.
Aside from the grand clearance sales, Pulse Uniform also give a daily perks for their customers. The prices of their nursing scrubs offered are the lowest among its leading competitors and promises of a price match in case customers find other companies offering lower price than theirs. The company also gives out group discounts or bulk orders letting customers save for about 20% in their orders. On top of this all, Pulse Uniform boasts of a 100% customer satisfaction, easy return and exchange policy and a secure online shopping. Other fees for services like embroidery and logo set up has been even made cheaper and companies may now have a chance to have their logos for their nursing uniforms and favorite scrubs set up for free. Embroidery starts at $3.99 per line.
All of their products including nursing accessories are shipped for free once orders reached $39.99 and above. On orders below $39.99, Pulse Uniform offers a flat shipping rate of $2.99 on all regular and clearance scrubs.
For more information, Pulse Uniform can be reached by calling their customer service hotline at 1.866.967.85.73 or visit their website and click on online chat. Channel your queries too through email by keying info(at)pulseuniform(dot)com. Share experiences and direct suggestions and recommendations through Facebook by visiting their page at http://www.facebook.com/pulse.scrubs.
###