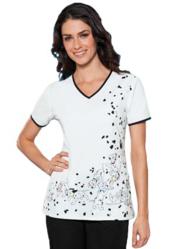 And this is the reason why they often choose Pulse Uniform because they know that aside from the low prices they want for these fashion forward scrubs, they can always order them free of shipping charge as long as their purchase amounts to $75."
(PRWEB) October 05, 2011
After the successful huge scrub prints clearance sale, Pulse Uniform guarantees customers are provided with a new inventory of nursing scrubs. One of the most popular and trusted brands Cherokee scrubs ramps up their collection with more than a hundred new styles and vibrant colors both for scrub tops and pants.
Mock wrap style, empire waist, and accents like contrasting pipes and side panels are given a new zest with colors that are in trend this fall. Expect awesome prints in their most comfortable cuts and fabric blends that bring nursing scrubs fashion to a new level. Classic prints are given a tweak or twist that adds to its panache. Even lace and insets gives each collection of Cherokee scrubs, the Baby Phat scrubs and Skechers scrubs, an edge over other fashion scrubs.
Baby Phat scrubs collection is a celebration of the diversity and beauty of career-oriented women in the medical and healthcare industry. This bestselling Cherokee scrubs collection truly believes healthcare workers have fashion, flair and fabulosity in their wardrobe needs. Styles and colors that complements and flatters a woman silhouette is one that women love no matter what profession. And in that, Baby Phat succeeds as they continue to come up with hundreds of new styles and designs.
Skechers scrubs collections maintains its trademark of hip and cool style but combines it with the sensible features, like side vents for ease of movement and multiple pockets to stow the small essentials, that every healthcare professional needs and appreciates. A plethora of bright colors and fun print scrubs includes the ubiquitous whites and variations like Aqua Pop, Pink Pop, and the constant color Navy and Ceil Blue.
Customer Support Manager Karen says, "Skechers medical scrubs and Baby Phat scrubs are updated each season to ensure that nurses and healthcare professionals are always in fashion. Customers enjoy the high-end nursing scrubs like Baby Phat and Skechers scrubs but at the same time they want it to be available at low, low prices. And this is the reason why they often choose Pulse Uniform because they know that aside from the low prices they want for these fashion forward scrubs, they can always order them free of shipping charge as long as their purchase amounts to $75."
Aside from that, she adds that the customers find it easy to shop for the style they really want simply because Cherokee scrubs continue to innovate styles and fabrics that health care professionals ultimately love. And Pulse Uniform makes it a point to continuously update the inventory to ensure that new collections, styles, designs and colors are available for their customers to keep them in the height of fashion in nursing scrubs.
###