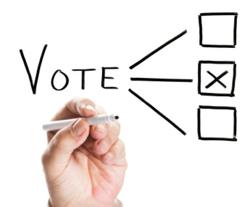 Lack of Confidence Likely to Prove Challenging for the Incumbent
Worthington, OH (PRWEB) May 03, 2012
President Obama and Mitt Romney are tied with Registered Voters, according to a recent analysis of the latest American Pulse™ Survey (APR-12, N=3,666). If the election were held today, 39.7% would cast a ballot for the incumbent, while 39.3% would choose the challenger. Romney has a slight edge among Likely Voters with 41.5%, compared to 40.8% for the President.
In what's expected to be a closely contested battle, the key to the election will likely be Undecided Voters. Studies have shown that typically those who haven't made up their mind break for the challenger, making President Obama's bid for re-election more difficult. According to the analysis, 21% of Registered Voters are undecided and this voter group appears to be dissatisfied with the current state of the union. They are overwhelmingly unhappy/very unhappy with the government (71.8%) and they believe the economy is heading in the wrong direction (68.4%).
Undecided Voters identify the weak economy (20.9%) as the #1 problem currently affecting the U.S. followed by unemployment (16.9%) and national debt (16.1%). Although Undecided Voters aren't sure if Romney would handle these issues "well," they appear to believe he could do better. Respondents were asked to rate how they thought Romney would do if elected President regarding the top problems. When comparing those who said either good or excellent to those who said President Obama has handled them in the same regard, the indices fall in the Republican's favor.
Romney vs. Obama's Handling of Major Problems – Good/Excellent (Undecided Voters)
(To be read as: 100 equals the same as Obama, 105 indicates Romney would handle 5% better than Obama while 95 indicates Romney would handle 5% worse.)
Top 3 Problems
Weak economy: 158
Unemployment: 96
National debt: 188
Source: American Pulse™ Survey, APR-12
For full complimentary report including additional issues impacting America, click here.
With Undecided Voters tending to believe Romney could do a better job handling major U.S. problems, re-election could be a problem for Mr. Obama.
American Pulse™
The American Pulse™ Survey is collected online twice a month covering topics such as politics, pop culture and the economy. 3,666 respondents participated in the 2nd April American Pulse conducted 4/23-4/30/2012. Margin of error is +/- 1.6%. http://www.biginsight.com
reInvention LLC
reInvention LLC provides global sampling and data collection services. Driven by a passion for making it incredibly easy to survey audiences anywhere in the world, reInvention delivers high-quality responses and superior results. OneOpinion, reInvention's respondent panel, is a next generation survey taking platform that encourages survey participation through sophisticated technology, honest communications, and respectful compensation. reInvention was founded by Hugh Davis and Keith Price and is headquartered in Westport, CT. http://www.reInvention.com
###
Contact:
Chrissy Wissinger, Senior Manager, Communications
chrissy(at)biginsight(dot)com
Dianne Kremer, Senior Analyst
dianne(at)biginsight(dot)com
614-846-0146