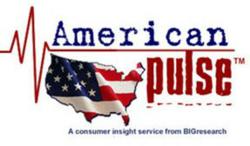 Voting among notable U.S. public figures, nearly 3 in 10 Americans (28.2%) would choose Steve Jobs to run the country in 2012 while 16.8% would pick Fox News personality Bill O'Reilly.
Worthington, OH (PRWEB) September 08, 2011
While Congress struggles to even out its budget, Americans are keeping their personal finances in order: 94.5% of Americans say they are better than Congress at "balancing the checkbook," according to the latest American Pulse™ Survey of 6,138 respondents. Those from Generation Y, however, give Congress a little more credit. Only 86.5% think they do a better job with their own finances.
Another financial issue, Social Security, has most Americans worried about retirement. The majority of Americans are somewhat/very concerned that funds for Social Security will run out by the time they retire. Members of Generation X appear to be the most concerned, followed by Gen Y. Boomers are not as worried, likely because they are close to retirement age:
Somewhat/Very Concerned Social Security Funds Will Run Out Before Retirement
Gen Y: 74.7%
Gen X: 82.7%
Boomers: 66.1%
Source: American Pulse™ Survey, Aug-2011
For a full, complimentary report, click here.
41.1% of Adults 18+ say Social Security should be privatized rather than requiring citizens to pay into a government-sponsored retirement plan. Members of Generation Y (57.6%) are most likely to agree while Boomers would rather keep the system the way it is (42.3% vs. 32.6% who would opt for privatization).
Americans' perspective of the Social Security program mirrors that of the overall economy. 7 in 10 (71.1%) think the economy is currently declining somewhat or declining greatly. 15.2% say it's not changing while 13.7% see improvement. The majority (84.3%), however, say we are still in a recession (vs. 8.5% who don't agree and 7.2% who don't know).
In regards to recent fluctuations in the stock market, most Americans are not confident that the market will recover by the end of the year (although 18.4% are optimistic). 35.7% predict the market will be better by the end of 2012 while 29.2% expect recovery to take five years.
With the country's finances weighing on the minds of Americans, it's no wonder many would like to see a CEO (46.4%) or banker (19.0%) run the nation. Another 13.3% would like a construction worker in charge, 8.1% would opt for an ambassador and 6.8% would like to see a comedian run the country.
Voting among notable U.S. public figures, nearly 3 in 10 Americans (28.2%) would choose Steve Jobs to run the country in 2012 while 16.8% would pick Fox News personality Bill O'Reilly. George Clooney (10.9%) rounds out the top three, followed closely by Joe the Plumber and Stephen Colbert (each with 9.5%).
For a special look at income expectations in 2012 as well as what Americans would do with an extra $1,000, click here to view the "Money Matters" report.
American Pulse™
The American Pulse™ Survey is collected online twice a month exclusively utilizing SSI's U.S. panel covering topics such as politics, pop culture and the economy. 6,138 respondents participated in the 3rd August American Pulse conducted 8/30-8/31/2011. Margin of error is +/- 1.3%. http://www.biginsight.com
Survey Sampling International (SSI)
Bringing together Survey Sampling International and Opinionology, SSI is the premier global provider of world-leading sampling, data collection and data analytic solutions for survey research. SSI reaches respondents in 72 countries via Internet, telephone, mobile/wireless and mixed access offerings. Value-add services include questionnaire design consultation, programming and hosting, data processing and real-time reporting. SSI serves more than 2,000 clients, including the top 50 research organizations. It has 30 offices serving clients around the world.
BIGinsight™
Chrissy Wissinger
chrissy(at)biginsight(dot)com
Randi Honkonen
randi(at)biginsight(dot)com
614.846.0146
SSI
Ilene Siegalovsky
Ilene_siegalovsky(at)surveysampling(dot)com
203-567-7230
###