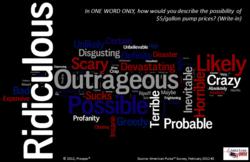 Worthington, OH (PRWEB) March 08, 2012
Gas prices are expected to heat up this summer due to a variety of factors. With oil prices rising, talks of war with Iran in the news, and Americans marking their calendars for summer vacations, it is no surprise the majority is preparing to spend more to top off the tank. 71.3% of Americans think it is somewhat or very likely that gas prices will hit $5/gallon by Memorial Day, according to the latest American Pulse™ Survey, and Americans aren't too happy about the situation. The top 3 words Americans used to describe the possibility of such high pump prices are Ridiculous (6.6%), Possible (4.3%) and Outrageous (4.0%). Likely, Horrible, Crazy, Scary, Terrible, Probable and Bad finish out the top 10. Notably, members of Generation Y were nearly 3 times more likely than Adults 18+ to say $5/gallon is "Expensive" (3.3% vs. 1.2%).
Further, consumers in Generation Y are more likely than older generations to carpool, walk, cycle or utilize public transportation as a result of high gas prices. Gen Y scored 113.07 on an index showing the propensity of each age group to consider alternative forms of transportation as gas prices approach $5/gallon, meaning they are 13% more likely than the average population to drive less as pump prices rise:
Propensity to Consider Alternate Transportation at $5/Gallon (vs. Adults 18+)
Gen Y: 113.07
Gen X: 94.52
Boomers: 98.43
Silent: 98.77
Source: American Pulse™ Survey, FEB-12
To be read as: Score of 100 is flat to general population; Score of 105 indicates score is 5% higher than the general population
For a full, complimentary report, click here.
Generation X appears the least likely to adopt alternate forms of transportation. For some, increasing gas prices may not be influential, but current life situation is most likely the leading factor creating the need for a car.
"Members of Gen X are likely at high points in their careers and have children to transport to and from extracurriculars," said Dianne Kremer, Senior Analyst at BIGinsight™. "The necessity for a vehicle is causing them, along with consumers of all ages, to cut back in other areas, like taking fewer shopping trips, searching for sales and sticking closer to home. Nearly a half plan to cut back on vacation plans this year as well."
Pump prices are causing many consumers to pause from packing their bags--46.8% say the cost of fueling up will affect their vacation plans in 2012. Of those rerouting, 39.2% say they won't be taking a vacation at all this year while 3 in 10 (31.5%) plan to cut back on other parts of their travel budgets (cheaper hotels, fewer days of vacation, etc.). 29.1% won't be traveling as far as originally planned and 23.7% are planning a staycation. Staycations are the most popular among Gen Y (27.2%) while Boomers are more likely to not be taking a vacation at all (43.8%).
Be sure to check out the BIG Consumer Blog for the top vacation destinations in the United States (gas prices aside): State Superlatives: Dreamiest Destination, Finest Fare, Best Bet for a "Rerun" + more
Other Key Findings:

Due to the rising cost of food and gasoline, 46.3% of Americans say they are buying more in bulk. Gen Y is most likely to adapt this new shopping strategy (59.1%) followed by Gen X (45.3%), Boomers (43.7%) and members of the Silent Generation (37.3%). Only 13.8% of all consumers say they do not buy in bulk at all.
According to half of Americans (50.0%), the most effective strategy for dealing with high gas prices is opening up American oil reserves for drilling. Members of Gen X (52.0%) are most likely to support this. The #2 strategy among Americans is driving more hybrid/fuel efficient cars (17.8%). Gen Y (29.3%) is the most likely generation to be behind this plan.
Of Americans with a car payment, 1 in 3 (33.3%) say the amount they pay for gas each month exceeds their car payment. Members of Gen Y who have car payments (42.5%) are most likely to say the same, followed by members of Gen X (36.6%).
American Pulse™
The American Pulse™ Survey is collected online twice a month covering topics such as politics, pop culture and the economy. 4,185 respondents participated in the 2nd February American Pulse conducted 2/27-3/5/2012. Margin of error is +/- 1.5%. http://www.biginsight.com
reInvention LLC
reInvention LLC provides global sampling and data collection services. Driven by a passion for making it incredibly easy to survey audiences anywhere in the world, reInvention delivers high-quality responses and superior results. OneOpinion, reInvention's respondent panel, is a next generation survey taking platform that encourages survey participation through sophisticated technology, honest communications, and respectful compensation. reInvention was founded by Hugh Davis and Keith Price and is headquartered in Westport, CT. http://www.reInvention.com
BIGinsight™
Chrissy Wissinger
chrissy(at)biginsight(dot)com
Randi Honkonen
randi(at)biginsight(dot)com
614.846.0146
reInvention LLC
Jim Nikolis
jnikolis(at)reinvention(dot)com
203.635.0882
###