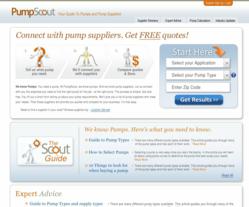 Using PumpScout.com buyers can quickly get price quotes from multiple suppliers, saving time and money.
Tacoma, WA (PRWEB) August 07, 2012
PumpScout.com now offers buyers of industrial pumps a quick way to get quotes and compare prices from multiple suppliers.
"Finding the right pump company and getting a quote is not an easy task. There are hundreds of options depending on the specific application, and finding the right pump and then getting price quotes from multiple suppliers can be a tedious process," says PumpScout.com co-founder and CEO Justin Johnson.
PumpScout.com makes the process easier and faster by inviting buyers to enter information about the type of pump they're looking for and the application into the website's industrial search engine. The search tool not only provides a list of companies that offer the appropriate pump – but it also lets the buyers immediately request a price quote.
Buyers can specify whether they prefer a local or national supplier. PumpScout.com culls the best results from its database of hundreds of pump companies, including some of the biggest names in the industry including Ruhrpumpen and Hydro. PumpScout.com's partners load their products into the website's database so buyers have access to everything that's available. Companies offer a wide range of products from vertical turbine to fire pumps and many more to fit nearly every application.
The process takes minutes, and the service is free.
In addition to helping buyers connect with suppliers, PumpScout.com also offers a wealth of pump-related information and content. The website features helpful articles from fluid handling experts and comprehensive guides to assist buyers in identifying the right pump for their application.
"PumpScout.com aims to be a leader in providing quality content and helpful, expert advice for the pump buyers that use our site," Johnson says. "We've built a tremendous library of articles, tips and tools to help consumers educate themselves and ultimately find the best pump for the job."
About PumpScout.com
PumpScout.com is a supplier search engine featuring more than 170 companies and their product lines. PumpScout.com connects pump buyers with pump manufacturers and distributors and provides them quotes – fast and free.
PumpScout.com is the pump buyer's single source for pump suppliers and consumer information, tools and tips on buying and maintaining all kinds of industrial pumps. For more information, visit PumpScout.com.