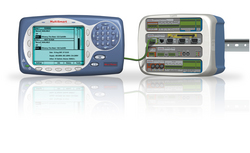 What is a Pump Station Manager?
Brisbane, Australia (PRWEB) January 20, 2009
MultiTrode has released a new 90-second video to answer the question "What is a Pump Station Manager?"
For lift stations and pump stations, the MultiSmart pump station manager represents substantial capital cost savings, while at the same time, providing a wealth of asset management data to any SCADA system. The short video shows how this is achieved.
The MultiSmart video is viewable on the MultiTrode website, as well as on Youtube and other video hosting sites.
MultiSmart replaces PLCs, RTUs, pump controllers, and many other control panel components. Open protocols in the unit allow MultiSmart to communicate with other intelligent devices in a panel (e.g. VFDs), as well as via remote communications networks to SCADA systems. The sophisticated RTU can also communicate on a peer to peer basis to control or monitor other remote sites.
About the company:
MultiTrode, founded in 1986, is a specialist in pump station technology for water and wastewater utilities around the world. The company has offices in the USA, UK and Australia.
# # #