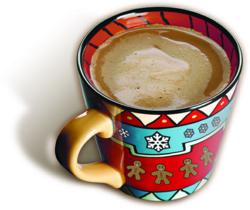 We are very excited about our newest seasonal beverage – Pumpkin Pie Chai Tea Latte – which is sure to put anyone into the holiday spirit.
Lake Forest, CA (PRWEB) August 20, 2012
Pumpkin Chai Lattes are now being served. Big Train's seasonal beverage offering is continuing to expand. With Big Train's announcement of its new gourmet Pumpkin Pie Chai drink mix, foodservice operators can meet consumer demand for specialty cafe beverages in time for the fall and winter holiday season.
According to Big Train, the creamy and comforting taste of pumpkin pie compliments the exotic spices of classic chai deliciously creating an irresistible new flavor. Pumpkin Pie Chai joins four other flavors in the Big Train seasonal drink lineup that is available during the fall and winter months of the year.
Big Train advises its business customers to order in advance of the holidays as Big Train's seasonal drink mix products are available in limited quantities and generally sell out quickly.
2012 Big Train Seasonal Drinks:

New! Pumpkin Pie Chai – Combining Chai Tea Latte with pumpkin pie flavors – pumpkin, cinnamon, clove, nutmeg, and allspice to make a perfect fall treat.
Gingerbread Chai - A perfect blend of Big Train's award-winning chai tea latte infused with ginger and spices. Our top-selling seasonal drink!
Peppermint Mocha Blended Ice Coffee - Cool, creamy peppermint with chocolate and 100% Arabica coffee – give your mocha a new seasonal twist!
Pumpkin Spice Blended Ice Coffee - Creamy pumpkin and spices combined with 100% Arabica coffee make a rich and satisfying Pumpkin Spice Latte or Frappe beverage. A returning customer favorite!
Egg Nog Blended Crème – Classic holiday egg nog flavors make a soothing and rich, hot, cold or frozen beverage. Add a shot of espresso or tea concentrate to make a latte.
"Starting this August there are five reasons to get into the holiday spirit", says Tim Pisarski Strategic Marketing Director at Big Train Inc. "Our seasonal flavors capture the essence of the holiday season and will produce incremental sales for our customers. We are very excited about our newest seasonal beverage – Pumpkin Pie Chai Tea Latte – which is sure to put anyone into the holiday spirit."
Each flavor can be made blended (like a frappe), over ice or hot with just one mix. Seasonal selections come in different case pack sizes for each flavor: Pumpkin Pie Chai and Gingerbread Chai are available in 4/3.5lb bags; Peppermint Mocha and Pumpkin Spice Blended Ice Coffee are available in 5/3.5lb bags; Egg Nog Blended Crème frappe mix is available in 5/3.5lb bags.
Big Train has a limited time promotional offer available for these holiday drink mixes and suggests that foodservice customers contact their Distributors or Big Train sales support representative by calling 800 BIG TRAIN (244-8724) for more information or to place an order.
For more information on Big Train's Seasonal Product line go to: http://www.bigtrain.com/t-holidays-seasonal.aspx
About Big Train, Inc.
Founded in 1991, Big Train is a leading manufacturer and distributor of premium powdered and liquid concentrate beverage mixes serving the specialty coffee, foodservice and retail industries in the US and abroad. Headquartered in Lake Forest, California with a manufacturing facility in Rancho Santa Margarita, California, Big Train is known for high quality beverage solutions that are great tasting and easy to prepare. Big Train offers a wide array of products including blended ice coffees, coffee-free blended crème frappes, chai teas, coffee protein drinks, fruit smoothies, kids' beverages, hot cocoas (hot chocolates), low carb beverages and baked goods, powdered soft serve and flavored syrups to more than 20,000 customers including independent and small chain coffeehouses, bakeries, foodservice operators and its extensive international distributor network. For more information, visit http://www.bigtrain.com or call 800 BIG TRAIN, that's (800 244 8724). Or follow @BigTrain on twitter http://www.twitter.com/bigtrain or like Big Train on Facebook at http://www.facebook.com/bigtrain.