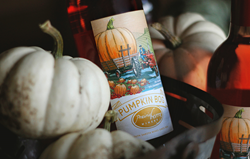 Hill City, SD (PRWEB) October 14, 2016
Prairie Berry Winery announces the release of their seasonal fall wine, Pumpkin Bog, a semi-sweet wine made from locally picked South Dakota pumpkins and blended with tart cranberries to perfectly balance the flavors of fall. Pumpkin pie spice not included.
Making a wine with pumpkin wasn't an easy task, but fifth generation winemaker Sandi Vojta, was up for the challenge. After handpicking pumpkins with her father, Sandi tried many different versions of the wine. She wanted to stay away from the traditional flavors paired with pumpkin like cinnamon and nutmeg, and after several experiments instead opted for cranberry.
"Cranberry added a much needed brightness to the otherwise mellow pumpkin," said Sandi. "When the two flavors combined it was a 'holy smokes' kind of moment."
Even the label is non-traditional. The illustration showcases Sandi's father Ralph on a tracker harvesting both pumpkins and cranberries in a bog. Hence the name "Pumpkin Bog."
Pumpkin Bog is a limited release wine, available at Prairie Berry Winery in Hill City, SD, Prairie Berry East Bank in Sioux Falls, SD, online, and select South Dakota and Wyoming retailers.
For more information on Prairie Berry Winery visit http://www.prairieberry.com, call 605.496.7174 or email emilyp(at)prairieberry(dot)com.
ABOUT PRAIRIE BERRY WINERY
Prairie Berry Winery is co-owned and co-operated by fifth generation winemaker and brewmaster Sandi Vojta. After immigrating to Dakota Territory in 1876 from Czechoslovakia, Sandi's great-great grandmother, Anna Pesä, combined her traditional European winemaking style with the local prairie berries to produce wine for her family.
Today, Sandi continues the tradition and pays homage to her heritage by infusing local and seasonal ingredients into her wines and also Miner Brewing Company craft beers. Brewed on-site, both the wines and craft beers have a distinctly regional flavor.
Prairie Berry Winery is located in the Black Hills of South Dakota near Mount Rushmore on Highway 385.