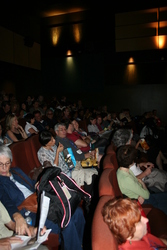 MONTREAL, Canada (PRWEB) September 6, 2009
PUNCTURED HOPE: A STORY ABOUT TROKOSI AND YOUNG GIRLS' SLAVERY IN TODAY'S WEST AFRICA triumphs at the Montreal World Film Festival. PUNCTURED HOPE had three screenings at the Festival. Each screening register a bigger number of viewers. The last screening, on Saturday, September 5th, had a full house with people sitting in first raw and some also standing.
Here are some quotes from film critics, journalists and film viewers who have attended the screenings.
"The Director Bruno Pischiutta testifies to a practice which is not very much widespread, but still an inadmissible horror. PUNCTURED HOPE is touching the spectator's heart. The movie is a wake up call for the international community. This film is recommended and needs to be seen over and over again." - Stéphane Waffo, Montreal Journalist/Film Critic (Touki Montréal, African Reflection, CISM, CIBL)
"I cannot find words to describe what I feel.  It is the best awakening movie ever!  Even if the subject is extremely hard, the fact that there were not graphic pictures of the atrocious acts they commit, it reached further within us without the sensationalism that most US movies have today. I am hoping in the deepest of my heart that many people will see it and will be aware of the nightmare life that these girls live. Director Bruno Pischiutta and Producer Daria Trifu did a fabulous job in recreating the situations keeping so much authenticity to them. Thank you so much for offering me the opportunity to see such an outstanding movie. I felt part of the movie as if I was one of the participants, it was so natural that it did not feel like a movie made up but just lived. Thank you!!!!" - Nadine Labat, Montreal Viewer
"While it appears that Western filmmakers are more inclined to turn to documentaries to expose this type of reality, with a fiction in which the protagonist tells her own story, Bruno Pischiutta first manages to bring us close to the village to let us understand its dynamics and politics before putting us face to face with the cruelty of this practice and the heartbreak it causes within the communities where it has now raged for several centuries. Punctured Hope is a definite must-see; this film is a great discovery that I highly recommend." - Khady Beye, Montreal Journalist (Durala, CHOQ FM)
"Belinda Siamey who plays Edinam gives an incredible performance in this heart wrenching true story that is simply done, yet compelling and memorable. Bruno Pischiutta has managed the art of taking a complex subject and presenting it tastefully, simply with sensitivity. I highly recommend that you take the time to see Punctured Hope and I promise that the end is worth waiting for. It is moving and unforgettable." - Andrea R. Garrison, New York Journalist
Carmelo Dodaro, the DOP of PUNCTURED HOPE, who did not get the chance to view the film before today's screening in Montreal, was in attendance and he congratulated Director Bruno Pischiutta and Producer Daria Trifu for the perfect execution of the movie.
Toronto Actress Krista Campbell and her husband David Craig were in attendance and they praised the artistic execution as well as the importance of the film's topic.
TV Interview with Pischiutta and Trifu at the Cinema Quartier Latin in Montreal. Interviewer Stéphane Waffo, Camera Charles Mathon of Touki Montréal: http://www.youtube.com/watch?v=na2kuwBSOX0
Interview with Pischiutta and Trifu on Radio Montreal CKUT 90.3 FM, "Amandla" with Journalist Nicolas Roux (15 minutes): http://www.sendspace.com/file/1dxy1y
PUNCTURED HOPE is produced by Adhara Properties and presented by Toronto Pictures (OTC: TTOPF). For complete coverage, news and updates, visit: http://www.torontopictures.ning.com
CONTACT:
Daria Trifu
(1) 416-303-0226
# # #