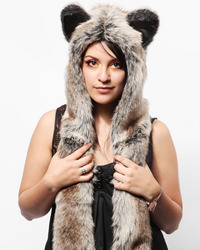 "...In a world dominated by the likes of Abercrombie and Walmart, there will always be a niche for those who seek out and support independent fashion designers." Mike Dreese, CEO, Newbury Comics
Boston, MA (PRWEB) June 29, 2010
Move over New York and L.A.! The fashion minded folks from one of America's most renowned indie music chains (Newbury Comics) have launched a fashion site under the name Punk.com. Don't let the name fool you. Despite an extensive assortment of music t-shirts from the likes of the Sex Pistols and the Misfits, the 18-35 fashion lovin' crowd will find an eclectic mix of sassy pinup and rockabilly dress wear, business attire with an attitude and weekend street wear.
The punk.com buyers take the site's motto of "Wear What You Want" to heart and many of the models are the guys and gals running the site. Shoppers will find everything from Ben Sherman, Obey and Hurley attire to Spirit Hoods sexy animal hats, Iron Fist platform shoes and Manic Panic hair dye.
Similar to their record store beginnings where the chain showcased the latest music from local and indie bands, the site has a treasure chest of new jewelry and apparel designers on the rise that you won't find at the big mall fashion houses. Punk.com hopes to build an impressive inventory of niche fashion vendors.
"Punk.com continues our company's tradition of seeking out the most interesting and bizarre aspects of the popular culture. In a world dominated by the likes of Abercrombie and Walmart, there will always be a niche for those who seek out and support independent fashion designers." Mike Dreese, CEO, Newbury Comics
About Punk.com
Punk.com was launched in March by the pop culture mavens at Newbury Comics. The site is run by an eclectic mix of Newbury Comics employees, some old and some new, who come from various backgrounds and interests including former Newbury Comics store managers, the vinyl toy industry, professional photographers and skateboarding enthusiasts. Newbury Comics is a Boston based indie music and pop culture chain. The company was founded in 1978 and is now generating $65 million in annual revenues with 28 stores throughout New England. The chain is a survivor of the mass merchant superstores and over the last 32 years has morphed from selling vinyl records to selling CDs, DVDs, t-shirts, posters, action figures, and fashion. Newbury Comics also operates the independent clothing store Hootenanny located in Harvard Square in Cambridge, MA.
###