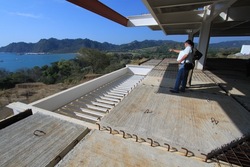 "In my mind I saw a pool elevated from the floor as a water table with a vanishing edge, giving reflections with a very exclusive, non-conventional glass tile..."
Boca Raton, FL (PRWEB) February 3, 2010
Punta Bocana is pleased to announce a new partnership with the acclaimed swimming pool designer Joan Roca's firm, AquArt. In keeping with Punta Bocana's attention to detail and high design, Mr. Roca has been commissioned to design a truly one-of-a-kind water experience, which will be individually featured on each terrace of the new Vista Bocana residences.
Mr. Roca had this to say about his vision for Punta Bocana....
"Punta Bocana captured my attention the first instant I saw it from the helicopter," said Mr. Roca, who hails from Spain. "The site's beauty is simply captivating. The shoreline, beaches and verdant hills dropping into the ocean, combined with Punta Bocana's unique open architectural design, was a great source of inspiration. I envisioned pools cantilevering over the ocean that give a sensation of floating in the middle of the rainforest, but at the same time within the intimacy of your own home, on your own terrace, and being able to enjoy it from almost any point in your home." Mr. Roca also cited Punta Bocana's contemporary feel and creative use of interior design as key factors in his decision to take on this project. "In my mind I saw a pool elevated from the floor as a water table with a vanishing edge, giving reflections with a very exclusive, non-conventional glass tile, surrounded by a white limestone floor and casual but boutique furniture. I was caught by my own imagination because that place is magic. It will be one of a kind."
Vista Bocana, now under construction, will be the first residential community within Punta Bocana, a master-planned resort development located on the southern portion of Herradura Bay on Costa Rica's central Pacific coast. Vista Bocana features two unique floor plans. The Four Bedroom "penthouse" residences will feature over five thousand square feet of living space, with three of the four bedrooms having access to the pool, a large terrace and an unparalleled view of the Pacific Ocean and its epic sunsets. Working to create a one-of-a-kind living experience in Costa Rica, no expense has been spared in designing these homes. Owners will enjoy exotic hard wood and imported limestone floors, creative lighting which will enhance the ten-foot ceilings on each floor. The Vista Bocana three-bedroom residences, approximately two thousand five hundred square feet, will feature the same appointments as its larger neighbor.
This will mark the first time in Costa Rica where each residence features its own plunge pool, built on its own terrace, an engineering feat never before accomplished for vertical construction in Costa Rica. Drawing upon his extensive background as a civil engineer, Mr. Acosta, Punta Bocana's visionary developer, has designed and built some of the sturdiest buildings and bridges in the country. His expertise will be needed in order to support the massive weight of a pool on each terrace rising six stories above the ground.
With the recent inauguration of the new highway between San Jose and the Pacific coast, the trip to Punta Bocana is only a short hour ride away from the nation's capital. For more information, please contact us on our web page or at ownership(at)puntabocana(dot)com.
###