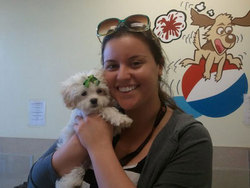 It is going to be a lot of fun and we expect a good turnout. In today's economy you can't turn down great deals like this.
Pompano Beach, FL (PRWEB) February 14, 2011
Have a new puppy or kitten at home that needs to be vaccinated or tested for conditions that could make them sick? Sometimes it can be a real hassle to get an appointment, let alone find time to keep the appointment in today's busy world. Just taking a few minutes, however, will go far to ensure your furry friend will have a happy and long life with you and your family. You can bring them to an on-site vaccination clinic hosted by Puppy Plus and the Animal Medical Center.
On Sunday, February 20 between the hours of 11:00 am and 3:00 pm, you can bring your puppy, kitten, dog or cat to Puppy Plus and choose between varied vaccination and health plans that will be right for your family. The prices are significantly reduced from what a regular vaccination and vet visit would cost, and the state certified veterinarians will make sure that everything is done right.
"We are very excited about teaming up with the Animal Medical Center for this event," said Jeff Shar, one of the owners of Puppy Plus. "It is going to be a lot of fun and we expect a good turnout. In today's economy you can't turn down great deals like this. We offer grooming 7 days a week for customer convenience and are now running from 40-75% off many items in our pet boutique, so you are not going to want to miss this event."
There are a kitten plan and a puppy plan each priced at $49. The puppy plan includes a DT2PP, Bordella, and Dewormer. The kitten plan is similar but its specifics include a FVRCP, Leukemia, and Dewormer. Health screenings and vaccinations for your older furry friends cost $49 as well. The dog plan includes Rabies, DA2PP, and Bordetella, and the cat plan includes Rabies, FVRCP, and Leukemia. There are premium options offered at the clinic as well. The premium dog and cat care plans cost $65 dollars each. The premium dog plan includes Rabies, DT2PP, Bordella, Dewormer, and a Heartworm Test, and the premium cat plan includes Rabies, FVRCP, Leukemia, and an FeLV test.
Rabies shots alone cost $25, and other vaccinations and tests can be priced and given alone as well. There may be an additional $3 fee added to services for waste and disposal fees. The packages do not include the cost of county licensing fees. It is required that you bring your dog on a leash and your cat in a carrier to make the event as streamlined and easy as possible. It is also important to bring your cat's or dog's complete vaccination records with you to the event as well. It will be up to the veterinarian's discretion whether a specific dog or cat is eligible for any of the services offered.
Make sure to mark time on your calendar to put your beloved pet's health needs first. A little prevention and testing go a long way in keeping your furry friend a healthy and happy member of your family. If you have any questions you can call Puppy Plus at 954-255-8233, or you can call the Animal Medical Center at 954-741-2776.
About Puppy Plus
Puppy Plus is a highly regarded kitten and puppy store that carries toy breeds, teacups, large breeds, and can special order a wide range of pets from private breeders. New pets come with a 14 day health plan and 1 year hereditary guarantee. In addition to pets, Puppy Plus also caries a wide selection of puppy supplies such as collars, leashes, beds, bowls, toys, treats, and more. Puppy Plus even has a full service grooming department with highly experienced groomers offering cuts, dying, stripping, and more - walk-ins welcome!
About Animal Medical Center
AMC Animal Hospital was established in 1975 with the goal to offer professional veterinary care to Broward county, including Lauderhill, Tamarac, North Lauderdale, Sunrise and Coral Springs. Their veterinary hospital offers services for dogs and cats including dentistry, boarding, surgery, emergency services, and holistic medicine. Whether it is your dog or cat's teeth cleaning, spay or neuter, annual or semi-annul exam, or any other service, Animal Medical Center is there to help you.
Media Contacts
Phone: 1-877-573-8787 | 954-255-8233
Address: 7071 N State Road 7, Parkland, FL, 33073
###