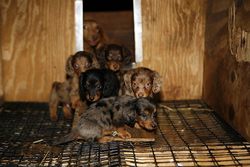 The dogs, most of them dachshunds, Chihuahuas, poodles and other small breed dogs, were confined sometimes four or five to a cage measuring just two feet by three feet
New Orleans, LA (PRWEB) August 25, 2008
More than 1,000 puppies have a new lease on life following their discovery Saturday in a large puppy mill breeding facility tucked away in the backwoods of West Virginia, just outside of city of Parkersburg.
Best Friends Animal Society is on site working with local Wood County law enforcement officials, the Humane Society of Parkersburg and the Humane Society of the United States, and late Saturday began rescuing scores of dogs from the Whispering Oaks Kennels.
"Right now, we are concentrating on removing the newborns, the pregnant mothers, and any dogs who need immediate medical attention," said Rich Crook, rapid response manager for Best Friends Animal Society.
"The dogs, most of them dachshunds, Chihuahuas, poodles and other small breed dogs, were confined sometimes four or five to a cage measuring just two feet by three feet," Crook said. "Many cages had feces in them. All had poor ventilation. The sheer number of animals was overwhelming, and the odor of urine in 90-plus degree heat was stifling."
By the end of the day Saturday, Crook said as many as 200 animals might be removed from Whispering Oaks and transported to a local emergency shelter set up by the local group, the Humane Society of Parkersburg. The remaining dogs will be transported over the next two days, he said.
Best Friends has been working with the Parkersburg Humane Society since last May, when the agency called for assistance in the case. Best Friends also advised the Wood County prosecutor's office in the case, and recently requested assistance from HSUS and other agencies to help with coordination of the operations at the local emergency shelter.
The fight against puppy mills, mass breeding operations that supply pet stores and fuel internet sales throughout the United States, is a priority initiative for Best Friends, which in the past two years led several other puppy mill busts. Puppy mills produce an estimated four million dogs in the U.S. each year for the pet sales market; and, sadly, an estimated six million homeless dogs and cats are killed in the U.S. each year.
"It's a national travesty that the puppy mill industry is allowed to flood the market every year with so many dogs being killed each year in animal shelters," said Julie Castle, director of community programs at Best Friends.
Best Friends' Community Programs group works with local organizations across the United States on a wide variety of animal welfare issues related to pet overpopulation, including puppy mills and management of feral cat populations.
For ongoing information about the dogs rescued in West Virginia, visit http://www.bestfriends.org.
"Kindness to Animals Builds a Better World for All of Us"
###