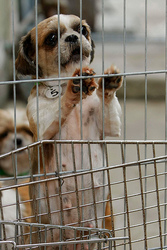 Investigative work by Last Chance for Animals (another rescue group partnering in the task force) has uncovered at least 10 puppy mill operations in the county that produce thousands of puppies each year
Los Angeles, Calif. (Vocus) March 3, 2009
Supervisor Michael D. Antonovich is showing great leadership in calling for more comprehensive laws to prevent irresponsible dog breeding in Los Angeles County, according to one of the nation's leading animal welfare organizations.
"We applaud Supervisor Antonovich for his motion which will be heard by the Board of Supervisors this coming Tuesday. If this motion is embraced, it will create an opportunity to make sweeping changes and prevent tax payers from bearing the cost of irresponsible breeding," said Elizabeth Oreck, LA Programs Manager for Best Friends Animal Society.
"Through Best Friends' "A Puppy-Store-Free" campaign we have been able to raise awareness in the greater Los Angeles area about the connection between puppy mills and pet stores. Best Friends has helped pet stores move to a humane business model of offering rescued dogs for adoption, rather than selling puppy mill dogs. Supervisor Antonovich's motion addresses the core issues related to treating puppies like a trendy fashion item," Oreck said.
Antonovich's motion calls on the Board of Supervisors to direct the Chief Executive Office to work with the Department of Animal Care and Control, the Department of Public Works, the Department of Regional Planning, and the Department of Public Health, in consultation with County Counsel and the District Attorney, to review the existing County regulations governing the location, size and operation of dog kennels and dog breeding facilities. It also includes making recommendations, including proposed ordinance amendments, for improving the quality of care for the animals and for ensuring responsible and safe dog breeding.
Best Friends has been working closely with the various departments on these recommendations, and was instrumental in the creation of a task force made up of volunteers, county staff and representatives from animal welfare organizations and rescue groups. This task force came together after the Antelope Valley bust of World Kennel in May 2008 where investigators uncovered overcrowded conditions.
"Investigative work by Last Chance for Animals (another rescue group partnering in the task force) has uncovered at least 10 puppy mill operations in the county that produce thousands of puppies each year," Oreck added. "That number is up significantly from just a few years ago. So Los Angeles County has been on its way to becoming the puppy mill capital of the west. If something is not done about this problem the number could sky rocket uncontrollably.
"Not only do these dogs and puppies live in horrible conditions but they often have medical and emotional issues. Their puppies are sold through local pet stores and through the Internet. Many of these dogs eventually make their way to local shelters which are already overburdened and it's the taxpayers who end up paying.
"When the Last Chance investigators uncovered the puppy mill operation of World Kennel, the county told the owners to downsize their breeding operations by hundreds of dogs in a short period, which flooded a local shelter with more homeless dogs to manage.
"We look forward to working collaboratively over the next few months with Supervisor Antonoivch and our colleagues in the task force. We are hopeful that the Los Angeles County Board of Supervisors as a whole will join Antonovich and us in supporting these latest efforts to once and for all end this tragic factory farming of dogs," Oreck said.
CONTACTS:
Barbara Williamson (435) 689-0200 (cell)
John Polis (435) 644-2001, ext. 4858
About Best Friends Animal Society:
Celebrating its 25th anniversary in 2009, Best Friends Animal Society advances nationwide animal welfare initiatives by working with shelter and rescue groups around the country. Best Friends Animal Sanctuary in southwestern Utah is the nation's largest facility for abused, abandoned and special needs companion animals. On any given day the sanctuary is home to approximately 1,700 dogs, cats, horses, rabbits, birds, and other animals. The society publishes Best Friends magazine, the nation's largest general interest, pet-related magazine with approximately 300,000 subscribers. For more information on Best Friends Animal Society, visit: http://www.bestfriends.org/
###