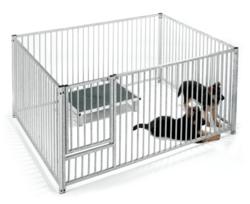 Premium Puppy Pens
(PRWEB UK) 30 April 2012
DogRunPanels have just launched their new heavy duty puppy pens which are ideal for keeping your puppies safe and secure. These new modular galvanised puppy pens are designed to bolt together so you can change the size as required.
The standard sized pen is 1.5m x 1.5m but this can be expanded by purchasing additional panels, the bars are set at 5cm gaps so these are suitable for all breeds of dogs. Each puppy pen is complete with one hinged gate with latch for easy access.
These puppy pens are designed to be an easy affordable self assembly system which is an ideal day time run. These can be set up on any surface so no concrete base is required as they are suitable for lawns, patios and gravelled areas.
All the puppy pens come with a 5 year guarantee and are made to European Standards, these should provide years of unsurpassed performance and peace of mind as these premium pens will provide a safe environment where puppies can have fun playing in the garden or indoors.
These premium puppy panels are now all in stock and are a must for any dog owner or breeder, for further details and advice are available from DogRunPanels.co.uk