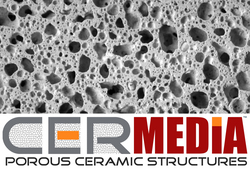 Buffalo, NY (PRWEB) June 14, 2010
CerMedia LLC announced today that it has completed its purchase of the principal manufacturing and production assets, inventory and certain information of the Cell-Pore product group previously owned and operated by NanoDynamics, Inc., which products were sold under the brand names "ReefreshH20" and "BioLatis". Integration of these assets at its Buffalo, NY facility will allow the company to immediately increase its current production capacity. These additional resources, coupled with improvements in technology and formulation in its recently released MarinePureTM product line, will allow the company to more aggressively respond to its already growing market demand.
MarinePureTM is an inert ceramic material with open flow architecture, extremely high surface area and natural wetting properties. The media's composition is similar to natural rock formations. MarinePureTM provides approximately 150,000 sq. ft. per cu. ft. (510 m2/l) of accessible surface area. The properties of MarinePureTM create a stable home for a dense population of beneficial bacteria that remove ammonia and nitrites from your aquarium. Some systems will also see a decrease in nitrates. MarinePureTM will work in sumps, trickle filters, wet/dry filters, and hang on the back filters or directly in the tank. It is resistant to clogging and greatly reduces tank maintenance.
About CerMediaTM - CerMedia, LLC is a manufacturer and technology provider of high surface area ceramic media. Media is used for various liquid and vapor biofiltration substrate. Media can also be used as a substrate for various catalytic and chemical reactions. http://www.Cermedia.com.
# # #