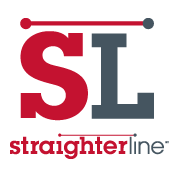 Offering StraighterLine online college courses through Learning Solutions is our budget-friendly way for people and their children to have access to a better life with a chance to graduate debt free.
Baltimore, MD (PRWEB) February 26, 2013
StraighterLine announced today that they have partnered with Purchasing Power to offer American workers the opportunity to start a Bachelor's Degree affordably through Learning Solutions, a new service of the Purchasing Power employee purchase program. The incorporation of StraighterLine's extremely flexible self-paced online college courses into Learning Solutions allows Purchasing Power's customers to pay for college courses through payroll deduction.
StraighterLine offers entry-level college courses online in Business, English, Humanities, Mathematics, Science and Foreign Languages, as well as College Prep. Purchasing Power customers can purchase the "Freshman Year of College for $1299" program which provides students with access to ten courses for an entire calendar year. In addition, StraighterLine offers a wide variety of CBEs (credit-by-examination) that allows students to earn college credit based on test scores. StraighterLine's Student Advisors work with each student to transfer courses to another accredited college to complete their chosen degree.
"By combining StraighterLine's low-cost pathway to a college degree and Purchasing Power's ease of purchasing, participating employers can offer their employees a manageable path to professional growth," says Burck Smith, CEO and founder of StraighterLine.
Employers offering Purchasing Power can now provide their employees with additional educational options and career advancement opportunities without incurring additional costs associated with traditional tuition assistance programs. And because StraighterLine's affordable online college courses allow students to save up to 90% on their first year of college, workers are given the opportunity to spend less to earn their degrees. Purchasing Power customers can also purchase educational courses for a family member through Learning Solutions.
"According to The Project on Student Debt, two-thirds of college seniors who graduated in 2011 had an average of $26,600 in student loan debt," says Richard Carrano, President and CEO, Purchasing Power. "Offering StraighterLine online college courses through Learning Solutions is our budget-friendly way for people and their children to have access to a better life with a chance to graduate debt free."
About Purchasing Power
Headquartered in Atlanta, GA, Purchasing Power, LLC is one of the fastest-growing specialty e-retailers in the market offering a leading voluntary benefit program. Purchasing Power differentiates itself from traditional e-commerce retailers through its unique payment plan value proposition, strategic benefit broker partnerships, internal marketing expertise and superior customer service. Purchasing Power is a Rockbridge Growth Equity, LLC Company. Over 6 million people have access to Purchasing Power, and since it was founded in 2001, the company has fulfilled over $950 million in customer orders from employees and members of leading companies and organizations across the U.S., including Fortune 500 companies and government agencies. For more information, visit PurchasingPower.com/Learning-Solutions
About StraighterLine
StraighterLine has been recognized as a revolutionizing force in lowering the cost of college education by major news organizations and the U.S. Chamber of Commerce for offering students online courses that earn real college credit for just $99 a month. Inside Higher Ed recognized StraighterLine for offering the "...lowest-cost set of credit-bearing courses on the Internet." And Fast Company named StraighterLine one of the "10 Most Innovative Companies in Education."
In order to facilitate the award of credit, StraighterLine has forged partnerships with leading accredited online colleges and universities. A student ultimately earns a degree from those institutions but realizes tremendous savings and convenience by starting with StraighterLine.
StraighterLine's courses are evaluated and recommended by the American Council on Education's College Credit Recommendation Service (ACE CREDIT), which includes over 1,800 participating colleges and universities. In addition to the institutions with which StraighterLine has a direct relationship, more than 300 other schools are reported to have accepted StraighterLine coursework for transfer credit.
Currently, StraighterLine offers entry-level college courses online in the Sciences, Humanities, English, Math, Business and Language. Many StraighterLine courses are now offered in both self-paced and professor-led formats, for students to take individually or as part of a cohort. 5 StraighterLine courses have been approved by The College Board to be listed as AP courses. As a pioneer in the movement to revolutionize college for America, StraighterLine also offers alternatives to college courses including Prior Learning Assessments and credit-by-examinations that let students earn college credit for knowledge and life experiences they already possess.
For information, visit StraighterLine.com or call 1-877-str8erline (1-877-787-8375).