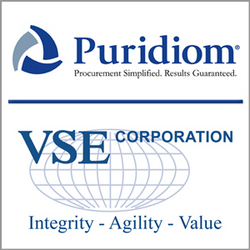 Involve management and users in the requirements gathering, evaluation process, and implementation planning. This will get you buy-in
Mechanicsburg, PA (Vocus) November 2, 2010
Implementation of the Puridiom Enterprise Procurement solution results in dramatic savings for highly regarded customer, VSE Corporation. The top ranking government contractor recently purchased and implemented the procurement solution to automate a semi-manual purchasing process and has gained control and visibility of spend, automated approval workflows, and ensured corporate policy compliance. In addition, the ability to store, track, and view purchasing data has significantly eased the burden of federal audits.
In a newly published case study, VSE Corporation's procurement challenge and subsequent solution is profiled. The case study follows the process of defining the problem, the selection process, implementation, department buy-ins, and the end results. A section on lessons learned offers advice for other organizations thinking about or in the beginning stages of automating their processes. "Involve management and users in the requirements gathering, evaluation process, and implementation planning. This will get you buy-in," offers VSE's Chief Information Officer Dave Chivers. "Take time to think through all of the details."
Puridiom continues to work with VSE to help them employ best practices to increase bottom line savings and assist with analysis of production data to forecast, track trends, and evaluate histories. To read the entire case study go the Puridiom website or the SDCE website.
About Puridiom
Puridiom is the most comprehensive Procure-to-Pay solution provider to offer Cloud and Licensed platforms for organizations of all sizes and industries. For over 27 years, Puridiom has streamlined function in the supply chain with innovative technologies, providing dynamic personalized services and extensive domain experience. The easy-to-use software and team strategies enable organizations to gain a competitive position and transform business into a strategic resource savings solution. Solutions include: Enterprise Procure-to-Pay, Puridiom Xpress, Strategic Sourcing, Catalog Content Management, Supplier Enablement, Invoice Automation, AP Outsourcing, and Travel Management. E-Procurement consulting services are also provided.
About VSE Corporation
VSE is a diversified Federal Services company of choice with over 50 years of experience in solving issues of global significance with integrity, agility, and value. VSE is dedicated to making their clients successful by delivering talented people and innovative solutions for logistics, engineering, IT services, construction management and consulting. For additional information on VSE services and products, please see the Company's website at or contact Randy Hollstein, VSE Vice President of Sales and Marketing, at (703) 329-3206.
###