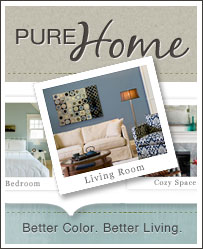 Seattle, WA (PRWEB) November 16, 2011
Throughout the home decor industry, color selection is recognized as the most difficult process for consumers. Pure Home's new contextual search technology and palette creation process will solve this problem for DIY customers. The social e-commerce company recently launched phase one of the beta version of their Inspir™ color selection platform.
Style, mood, and existing colors are all assessed within Pure Home's palette selection process, and choosing colors to match those decorating needs has never been easier! Users are able to create color palettes for all of their redecorating projects, for each room in their home. Pure Home's profiling team uses in-depth profiling to match each piece with style, color, and lifestyle durability needs so that customers receive a professionally inspired design! The products and pieces recommended to each user will become available to buy on Pure Home's platform in the first quarter of 2012. The platform will make the home decorating process sophisticated, simple, and fun for DIY consumers.
With the launch of PureHome.com beta website, users can create personalized color palettes with over 200 paint colors. Paint color samples are quick and easy to order online, and are shipped directly to your home for you to test the color in your room. If you love your sample, larger quantities from quart to gallon are available from two national paint brands at your local hardware or home improvement store (regional brands will be available in the future).
Pure Home Corporation is hardly stopping with color selection; the beta website has a helpful Inspiration page for users to find ideas and starting points for their palettes and home decor projects. Once the user has created their palette, they can begin adding palettes and products to their own Design Studio – the perfect place to store the products they want to purchase, inspirational photos, links, and notes!
In early 2012, PureHome.com will release additional features to their platform, including expansive social features, the anticipated Inspir™ transaction engine and marketplace. The team at Pure Home is rapidly loading and profiling products for the marketplace, and is actively seeking out additional brand partners to fill all home decor categories. These features will come with a complete redesign of PureHome.com that will be more in sync with the mood and feel of the site.
About Pure Home:
Pure Home is a social trading hub for the home decor industry, bridging the communications gap between buyer and seller by leveraging the Inspir™ Color Standard with their Contextual Search technology. Pure Home's breakthrough user experience provided on their unique social commerce site gives consumers greater confidence in their home decor decisions, while products from Pure Home's brand partners are available for algorithm-fueled recommendations to consumers. The breakthrough value proposition brought to the market by Pure Home's platform will result in the efficient balance of supply and demand in the home decor market. Unfiltered by the economics of scarcity and elevated by contextual matching, new markets and thousands of new customers will be opened to Pure Home's partner brands. For more information, visit the Pure Home web site at: http://www.purehome.com.
###