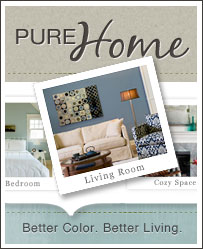 Seattle, WA (PRWEB) November 29, 2011
Pure Home has been talking about correct color selection for months, and their most recently released feature will supplement the solutions provided to Do-It-Yourself home decorators. The 'Room View' feature in the palette selection process of the site allows users to view their palette in a room or rooms of styles that match their personal profile.
This new feature can be used both during the palette creation process and from the user's design studio, so they can reference their colors as they plan their home decor project. The unique color preview feature enhances DIY users' ability to get an idea for how their chosen colors will look in a room, with more than just paint color.
The configurator Room View splashes color automatically, with primary, trim, and accent shades on walls, furniture and accessories in each room. Each user will see up to three different design styles they selected during their palette creation process and change the colors they see in the room with real-time viewing capabilities.
While they prepare to launch a complete re-design of their website and more social, technical, and design features in early 2012, Pure Home continues to strive to make home decorating a simple, fun, and sophisticated process for DIY consumers, designers, and interior design enthusiasts.
About Pure Home:
Pure Home is a social trading hub for the home decor industry, bridging the communications gap between buyer and seller by leveraging the Inspir™ Color Standard with their Contextual Search technology. Pure Home's breakthrough user experience provided on their unique social commerce site gives consumers greater confidence in their home decor decisions, while products from Pure Home's brand partners are available for algorithm-fueled recommendations to consumers. The breakthrough value proposition brought to the market by Pure Home's platform will result in the efficient balance of supply and demand in the home decor market. Unfiltered by the economics of scarcity and elevated by contextual matching, new markets and thousands of new customers will be opened to Pure Home's partner brands. For more information, visit the Pure Home web site at: http://www.purehome.com.
###