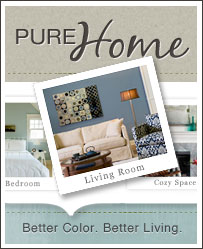 Seattle, WA (PRWEB) November 21, 2011
After the launch of PureHome.com and its revolutionary features for home decor consumers, there has been massive interest for the design studio available on the platform. Users can add their custom color palettes, upload a photo, note or link, and design their home decor projects within a complete online workspace. Pure Home most recently released the newest function for the design studios; the "For My Home" browser widget button.
Users can now download this widget from PureHome.com and place it in their bookmarks toolbar, then as they find photos and products they like on the web, they can add it to their Pure Home design studio of choice with just a couple clicks! Pure Home's goal is to make their platform the place for a sophisticated, simple, and fun home decorating process for DIY consumers, and this new browser 'clipping' button will achieve just that.
The design studio at Pure Home is already the perfect place to store the products consumers want to purchase, inspirational photos, links, and notes, and now users can easily add items from elsewhere online to their design studio without ever leaving their search process!
In early 2012, PureHome.com will release additional features to their platform, including expansive social features, the anticipated Inspir™ transaction engine and marketplace. The team at Pure Home is rapidly loading and profiling products for the marketplace, and is actively seeking out additional brand partners to fill all home decor categories. These features will come with a complete redesign of PureHome.com that will be more in sync with the mood and feel of the site.
About Pure Home:
Pure Home is a social trading hub for the home decor industry, bridging the communications gap between buyer and seller by leveraging the Inspir™ Color Standard with their Contextual Search technology. Pure Home's breakthrough user experience provided on their unique social commerce site gives consumers greater confidence in their home decor decisions, while products from Pure Home's brand partners are available for algorithm-fueled recommendations to consumers. The breakthrough value proposition brought to the market by Pure Home's platform will result in the efficient balance of supply and demand in the home decor market. Unfiltered by the economics of scarcity and elevated by contextual matching, new markets and thousands of new customers will be opened to Pure Home's partner brands. For more information, visit the Pure Home web site at: http://www.purehome.com.
###