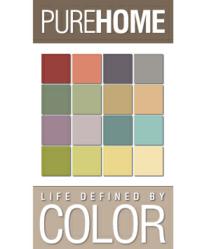 Seattle, WA (PRWEB) May 05, 2011
In response to the massive shift in consumer purchases to product sites online, Pure Home Corporation is preparing to launch their specialty retail channel. The home decor web startup company will be bridging the gap between product merchants and customers by educating the market with the new needs of online consumers and by bringing home decor products to the social sphere.
Home decor product brands and merchants are already partnering with Pure Home, and will be featured through Pure Home's contextual search and recommendation engine - which will be launched on the company's website in Q2 2011. This specialty retail platform will provide users with personalized product recommendations that are determined based on their unique home decor design needs - from style, to mood, to color - which are targeted from the user's Inspir™ Color palette creation process. The contextualized nature of the Inspir™ channel at PureHome.com makes a unique opportunity available to home decor brands: targeted communication and interaction with consumers at the start of their buying cycle.
Pure Home is bringing a perfect opportunity for home decor merchants and brands to increase their revenues and consumer loyalty by providing those brands with a specialized platform, designed to reach customers immediately as they enter their purchasing decisions. Consumers will benefit from personalized product recommendations, which will be presented to each user based on his or her specific needs - provoking a breakthrough buying experience. By giving customers a contextualized product recommendation based on their unique home decor needs, this specialty retail channel opens countless opportunities to the consumers, merchants, and brands in the home decor industry.
About Pure Home:
Pure Home is a social trading hub for the home decor industry, bridging the communications gap between buyer and seller by leveraging the Inspir™ Color Standard with their Contextual Search technology. Pure Home's breakthrough user experience provided on their unique social commerce site gives consumers greater confidence in their home decor decisions, while products from Pure Home's brand partners are available for algorithm-fueled recommendations to consumers. The breakthrough value proposition brought to the market by Pure Home's platform will result in the efficient balance of supply and demand in the home decor market. Unfiltered by the economics of scarcity and elevated by contextual matching, new markets and thousands of new customers will be opened to Pure Home's partner brands. For more information, visit the Pure Home web site at: http://www.purehome.com or the Pure Home blog at: http://blog.purehome.com.
# # #